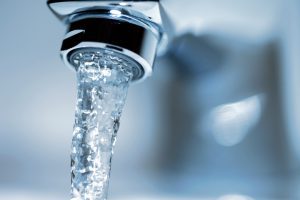 As you were responsibly washing the dishes tonight, the handle of your kitchen faucet fell off in your hand.  Suddenly there was water everywhere, so much water that once you got the water to the sink turned off, you decided it was worth the effort to mop the kitchen floor and wipe down the fronts of the kitchen cupboards located around the sink.  On the bright side, your kitchen hasn't looked this clean since the last family get-together!  However, your faucet trouble has probably left you wondering what the next step is.  Before you decide that it's time to replace your faucet, you should consider the option of faucet repair.  Faucet repair can often save you a bundle of money, while ensuring that your faucet will function beautifully, without those annoying leaks or quirks that often occur when your faucet has passed its prime.
When your faucet is broken, you need faucet repair services performed quickly to prevent any further water damage in areas located near your faucet.  Having faucet repair completed promptly will also allow you the chance to continue to use the kitchen sink for everyday tasks, such as food prep and cleanup.
Regardless of whether it is your kitchen faucet, your bathroom faucet, or any other faucet in your home that needs repair, when you have faucet troubles, call on us at Benjamin Franklin Plumbing Inc. – Leland.  Our fast, efficient, professional service will astound you.  We make your faucet repair a priority.  When you call on us, we'll make sure you can use the correct faucets for their intended purposes once more.