You will be fully satisfied with the results of any plumbing repair we complete – guaranteed!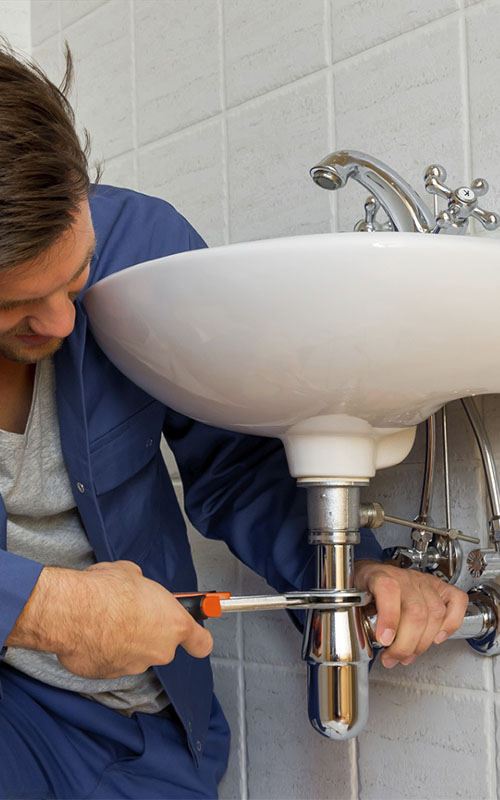 When you're looking for plumbing repair solutions, it can be hard to find a reliable plumber that shows up on time and will provide you with all of the services you need. Sometimes the best thing to do is just go straight for the phone number of the trusted plumbing company you know in Brunswick County, North Carolina – and that's here with us at Benjamin Franklin Plumbing Inc. – Leland.
When you call on us for a plumbing repair of any shape or size, you'll find our technicians prepared to assist you from start to finish. Not only do we fully vet our plumbers before they can wear the Benjamin Franklin Plumbing badge, but we also show up in our fully-stocked and recognizable blue truck that lets you know help is on the way!
We serve both residential and commercial clients, which means that no plumbing repair is too big or small for us to take on. We'll manage your plumbing concern efficiently and effectively, and we'll make sure that we leave your space better than we found it once the work is done. Furthermore, our work is always backed by the Benjamin Franklin Plumbing guarantee that we'll be on time and that you will be fully satisfied with the results of any plumbing repair we complete.
For all of your plumbing needs, make your next call to us at Benjamin Franklin Plumbing Inc. – Leland. We are confident that your home or business will be in good hands with us. We look forward to serving you!
---
At Benjamin Franklin Plumbing Inc. – Leland, we offer plumbing repair services in Acme, Antioch, Armour, Atkinson, Baltimore, Batarora, Bayshore Bell, Brunswick County, Swamp Bells, Crossroads, Belville, Bishop, Boiling Springs, Buckhead, Burgaw, Byrdville, Carolina Beach, Carvers Castle, Hayne, Caswell Beach, Cedar Hill, Kirkland, Kure Beach, Lake Sutton, Lanvale, Leland, Lennon, Little Kelly, Long Creek, Long View, Maco, Masonboro, Middle River, Mill Creek, Montague, Mooretown, Murphytown, Murraysville, Myrtle Grove, Navassa, Newtons Crossroads, Northwest Oak Island, Penderlea, Phoenix, Piney Wood, Plear, Point Caswell, Prosper, Rabontown, Reb Kee, Rhyne, Ricefield, Riegelwood, Rocky Point, Rowan, Russells Creek, Sandy Creek, Scotts Hill, Sea Breeze, Shaken, Shelter Neck, Silver Lake, Six Forks, Skippers Corner, Sloop Point, Smith Creek, Smith Crossroads, Smith Island, Southport, Spring Hill, St. Helena, Stag Park, Still Bluff, Suburb, Sunset Harbor, Supply, Surf City, Tomahawk, Topsail, Topsail Beach, Topsail Sound, Town Creek, Twin Oak, Vista, Walkers, Wallace, Watha, West Onslow Beach, Westbrook, White Stocking, Wilmington, Wilmington Beach, Windemere, Winnabow, Woodside, Wrightsboro, Wrightsville Beach, and Zara, North Carolina.
Similar Services We Offer: