Our experts offer the effective pipe repair services you need to get your plumbing working properly once more.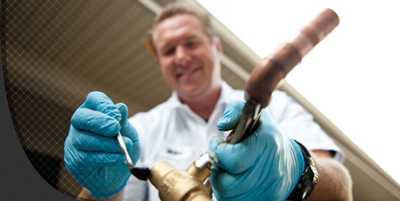 While there are some plumbing issues you can handle yourself, if you suspect there's a problem with a pipe, you should call a professional plumber to have them take a look. Pipe repair requires specialized training and experience to get right, and our team at Benjamin Franklin Plumbing Inc. – Leland has the necessary experience to deliver the effective solutions you need. When you need pipe repair, simply turn to our team to get the expert service you deserve.
When you call our team for pipe repair, we'll first ask you about the problems you've been having and ask you to show us the affected area. Then, we will thoroughly examine the pipes in that area to determine which one is causing the issue. Once we've identified the source of the problem, we'll temporarily shut off your water supply, then get to work on repairing the pipe in question. In some cases, the damage may be too severe for any repairs to be effective, in which case we can replace the damaged pipe with a new one instead. No matter what, we will make sure your plumbing system is working properly–with absolutely no leaks–before we go.
Our team is proud to serve the community here in Brunswick County, North Carolina, and we want to help you do what's best for your plumbing. If you need pipe repair services, just give us a call to enlist the help of our experts and get the prompt service you deserve.
---
At Benjamin Franklin Plumbing Inc. – Leland, we offer pipe repair services in Acme, Antioch, Armour, Atkinson, Baltimore, Batarora, Bayshore Bell, Brunswick County, Swamp Bells, Crossroads, Belville, Bishop, Boiling Springs, Buckhead, Burgaw, Byrdville, Carolina Beach, Carvers Castle, Hayne, Caswell Beach, Cedar Hill, Kirkland, Kure Beach, Lake Sutton, Lanvale, Leland, Lennon, Little Kelly, Long Creek, Long View, Maco, Masonboro, Middle River, Mill Creek, Montague, Mooretown, Murphytown, Murraysville, Myrtle Grove, Navassa, Newtons Crossroads, Northwest Oak Island, Penderlea, Phoenix, Piney Wood, Plear, Point Caswell, Prosper, Rabontown, Reb Kee, Rhyne, Ricefield, Riegelwood, Rocky Point, Rowan, Russells Creek, Sandy Creek, Scotts Hill, Sea Breeze, Shaken, Shelter Neck, Silver Lake, Six Forks, Skippers Corner, Sloop Point, Smith Creek, Smith Crossroads, Smith Island, Southport, Spring Hill, St. Helena, Stag Park, Still Bluff, Suburb, Sunset Harbor, Supply, Surf City, Tomahawk, Topsail, Topsail Beach, Topsail Sound, Town Creek, Twin Oak, Vista, Walkers, Wallace, Watha, West Onslow Beach, Westbrook, White Stocking, Wilmington, Wilmington Beach, Windemere, Winnabow, Woodside, Wrightsboro, Wrightsville Beach, and Zara, North Carolina.