When it comes to plumbing repair, no job is too large or too small for our team in Leland.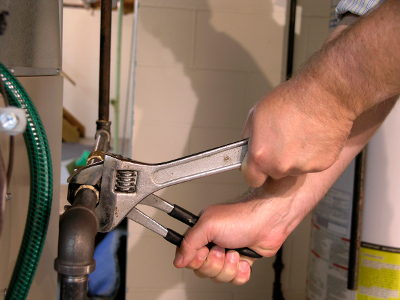 When something goes wrong with your plumbing system, waiting forever to get things back up and running can be a huge pain, especially if you're having a hard time finding a plumber who will do the job for you as soon as possible. Fortunately, you always have us on your side to provide reliable, efficient, and effective plumbing repair services in Leland, North Carolina.
When it comes to plumbing repair, no job is too large or too small for our team at Benjamin Franklin Plumbing Inc. – Leland. Whether you're having problems with a dripping kitchen faucet or you need to replace a section of piping in your home, we're up for the job. Some of the main repair services we offer to home and business owners include tub repair, pipe repair, well pump repair, water heater repair, tankless water heater repair, toilet repair, and shower repair.
We're all about doing plumbing repair jobs right the first time, so you can rest easy knowing that after we leave your home, additional repairs for the same problem aren't in your future. We also pride ourselves on our competitive, fair pricing schedule that won't ever make you feel like you're paying a small fortune to restore functionality to your plumbing system.
When it comes down to it, we're the best choice for all of your plumbing repair and maintenance needs. Contact us at Benjamin Franklin Plumbing Inc. – Leland to find out more about our different plumbing services and commitment to superior customer care.
---
At Benjamin Franklin Plumbing Inc. – Leland, we offer plumbing repair services in Acme, Antioch, Armour, Atkinson, Baltimore, Batarora, Bayshore Bell, Brunswick County, Swamp Bells, Crossroads, Belville, Bishop, Boiling Springs, Buckhead, Burgaw, Byrdville, Carolina Beach, Carvers Castle, Hayne, Caswell Beach, Cedar Hill, Kirkland, Kure Beach, Lake Sutton, Lanvale, Leland, Lennon, Little Kelly, Long Creek, Long View, Maco, Masonboro, Middle River, Mill Creek, Montague, Mooretown, Murphytown, Murraysville, Myrtle Grove, Navassa, Newtons Crossroads, Northwest Oak Island, Penderlea, Phoenix, Piney Wood, Plear, Point Caswell, Prosper, Rabontown, Reb Kee, Rhyne, Ricefield, Riegelwood, Rocky Point, Rowan, Russells Creek, Sandy Creek, Scotts Hill, Sea Breeze, Shaken, Shelter Neck, Silver Lake, Six Forks, Skippers Corner, Sloop Point, Smith Creek, Smith Crossroads, Smith Island, Southport, Spring Hill, St. Helena, Stag Park, Still Bluff, Suburb, Sunset Harbor, Supply, Surf City, Tomahawk, Topsail, Topsail Beach, Topsail Sound, Town Creek, Twin Oak, Vista, Walkers, Wallace, Watha, West Onslow Beach, Westbrook, White Stocking, Wilmington, Wilmington Beach, Windemere, Winnabow, Woodside, Wrightsboro, Wrightsville Beach, and Zara, North Carolina.
Similar Services We Offer: