Our sink repair professionals have been serving the Leland area for nearly two decades.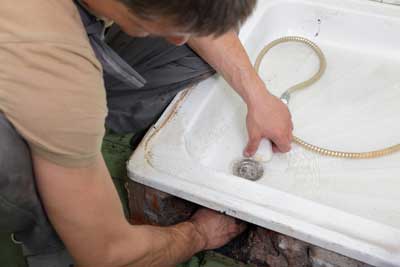 You rely on the sinks in your home for a variety of purposes. These might include dishwashing, personal hygiene, meal preparation, laundry, house cleaning, and a number of other tasks. When a sink isn't working properly, it's important to get it fixed as soon as possible, since a damaged pipe or clogged drain can lead to more serious water damage. If a fixture doesn't work, this isn't quite as serious of an issue, but will probably be quite bothersome every time you or someone in your home tries to turn it on.
No matter what type of problem you're experiencing, our team of skilled plumbers at Benjamin Franklin Plumbing, Inc. – Leland can help. Our sink repair professionals have been serving the Leland, North Carolina area for nearly two decades. You can call us at any time, day or night, because we provide 24/7 emergency service. A leaking or clogged sink that you can't clear on your own certainly constitutes an emergency, since it can cause a lot of damage in a short period of time if left untreated.
Depending on what type of sink repair you need, we will come in to provide a consultation. During this appointment, we will diagnose the problem and give you an estimate for repairs. If it's necessary to replace a fixture, garbage disposal, or other component of the sink, we can also handle this task quickly and efficiently. If you have a sink that just isn't getting the job done, give us a call today.
---
At Benjamin Franklin Plumbing Inc. – Leland, we offer sink repair services in Acme, Antioch, Armour, Atkinson, Baltimore, Batarora, Bayshore Bell, Brunswick County, Swamp Bells, Crossroads, Belville, Bishop, Boiling Springs, Buckhead, Burgaw, Byrdville, Carolina Beach, Carvers Castle, Hayne, Caswell Beach, Cedar Hill, Kirkland, Kure Beach, Lake Sutton, Lanvale, Leland, Lennon, Little Kelly, Long Creek, Long View, Maco, Masonboro, Middle River, Mill Creek, Montague, Mooretown, Murphytown, Murraysville, Myrtle Grove, Navassa, Newtons Crossroads, Northwest Oak Island, Penderlea, Phoenix, Piney Wood, Plear, Point Caswell, Prosper, Rabontown, Reb Kee, Rhyne, Ricefield, Riegelwood, Rocky Point, Rowan, Russells Creek, Sandy Creek, Scotts Hill, Sea Breeze, Shaken, Shelter Neck, Silver Lake, Six Forks, Skippers Corner, Sloop Point, Smith Creek, Smith Crossroads, Smith Island, Southport, Spring Hill, St. Helena, Stag Park, Still Bluff, Suburb, Sunset Harbor, Supply, Surf City, Tomahawk, Topsail, Topsail Beach, Topsail Sound, Town Creek, Twin Oak, Vista, Walkers, Wallace, Watha, West Onslow Beach, Westbrook, White Stocking, Wilmington, Wilmington Beach, Windemere, Winnabow, Woodside, Wrightsboro, Wrightsville Beach, and Zara, North Carolina.