We will troubleshoot your tub repair issue in Leland and apply reliable solutions.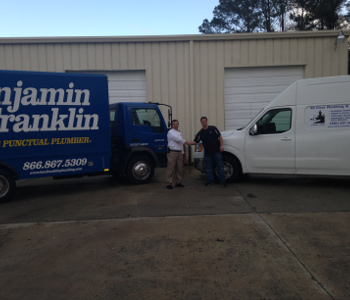 Have you noticed that your bathtub isn't draining properly, but nothing you do seems to resolve the issue? Are you having trouble with your faucet or with cracks in the base of your tub? At Benjamin Franklin Plumbing Inc. – Leland, we can help you resolve your problems when you require tub repair at your home or business in Leland, North Carolina. Our experienced team will troubleshoot the issue and ensure that your tub repair gets your bathtub working well again in no time.
With our tub repair services, we won't simply apply a quick fix when your bathtub needs attention. We'll make sure to get to the bottom of the problem and provide a long-lasting repair to meet your needs. You can rely on us to provide honest services at competitive prices, and you'll feel confident that you've chosen the right plumbing contractor for the job when you work with us. At Benjamin Franklin Plumbing Inc. – Leland, we understand the peace of mind that comes with having quality tub repair, or any plumbing services for that matter. That's why we are equipped to assist you, no matter how big or small your plumbing service request may be.
If you need to schedule tub repair, or if you have questions about our plumbing services, contact us at Benjamin Franklin Plumbing Inc. – Leland today to get started. You'll love knowing that our services are backed by the Benjamin Franklin Pluming On-Time Guarantee, and you'll feel confident your plumbing repairs are done right. We look forward to assisting you!
---
At Benjamin Franklin Plumbing Inc. – Leland, we offer tub repair services in Acme, Antioch, Armour, Atkinson, Baltimore, Batarora, Bayshore Bell, Brunswick County, Swamp Bells, Crossroads, Belville, Bishop, Boiling Springs, Buckhead, Burgaw, Byrdville, Carolina Beach, Carvers Castle, Hayne, Caswell Beach, Cedar Hill, Kirkland, Kure Beach, Lake Sutton, Lanvale, Leland, Lennon, Little Kelly, Long Creek, Long View, Maco, Masonboro, Middle River, Mill Creek, Montague, Mooretown, Murphytown, Murraysville, Myrtle Grove, Navassa, Newtons Crossroads, Northwest Oak Island, Penderlea, Phoenix, Piney Wood, Plear, Point Caswell, Prosper, Rabontown, Reb Kee, Rhyne, Ricefield, Riegelwood, Rocky Point, Rowan, Russells Creek, Sandy Creek, Scotts Hill, Sea Breeze, Shaken, Shelter Neck, Silver Lake, Six Forks, Skippers Corner, Sloop Point, Smith Creek, Smith Crossroads, Smith Island, Southport, Spring Hill, St. Helena, Stag Park, Still Bluff, Suburb, Sunset Harbor, Supply, Surf City, Tomahawk, Topsail, Topsail Beach, Topsail Sound, Town Creek, Twin Oak, Vista, Walkers, Wallace, Watha, West Onslow Beach, Westbrook, White Stocking, Wilmington, Wilmington Beach, Windemere, Winnabow, Woodside, Wrightsboro, Wrightsville Beach, and Zara, North Carolina.