Give us a call at any time, and we'll send an experienced plumber to your Leland building to perform toilet repair.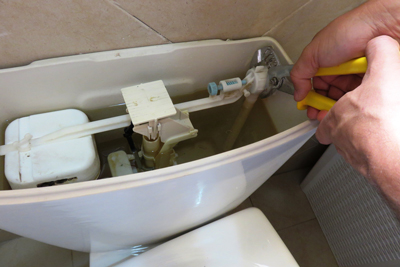 Most property owners don't spend a lot of time thinking about the toilets and other plumbing within their homes and/or offices, but when something isn't working properly, it will quickly become something you can't get off your mind. A clogged or otherwise damaged toilet is not a fun issue to deal with, but our team at Benjamin Franklin Plumbing, Inc. – Leland is always available to handle toilet repairs for both commercial and residential building owners. Basic clogs might be simple enough to clear on your own with a plunger, but continuing to plunge an already full toilet could cause the bowl to overflow. You'll need to clear out some of the water before getting started to prevent further damage.
If you can't get the clog to move, give us a call at any time, and we'll send an experienced plumber to your Leland, North Carolina building to perform toilet repair. There are a number of reasons why your toilet might not flush properly, so trying to diagnose a plumbing issue on your own isn't recommended. You could end up causing further damage to the pipes or plumbing fixtures, or you could just spend a lot of time trying without producing any results. Our team of knowledgeable plumbing experts will use high-end equipment and tools to diagnose the issue and give you a plan to fix it.
Because plumbing problems don't just happen during business hours, we offer emergency service 24 hours a day, 7 days a week, so don't hesitate to call us if you need toilet repair.
---
At Benjamin Franklin Plumbing Inc. – Leland, we offer toilet repair services in Acme, Antioch, Armour, Atkinson, Baltimore, Batarora, Bayshore Bell, Brunswick County, Swamp Bells, Crossroads, Belville, Bishop, Boiling Springs, Buckhead, Burgaw, Byrdville, Carolina Beach, Carvers Castle, Hayne, Caswell Beach, Cedar Hill, Kirkland, Kure Beach, Lake Sutton, Lanvale, Leland, Lennon, Little Kelly, Long Creek, Long View, Maco, Masonboro, Middle River, Mill Creek, Montague, Mooretown, Murphytown, Murraysville, Myrtle Grove, Navassa, Newtons Crossroads, Northwest Oak Island, Penderlea, Phoenix, Piney Wood, Plear, Point Caswell, Prosper, Rabontown, Reb Kee, Rhyne, Ricefield, Riegelwood, Rocky Point, Rowan, Russells Creek, Sandy Creek, Scotts Hill, Sea Breeze, Shaken, Shelter Neck, Silver Lake, Six Forks, Skippers Corner, Sloop Point, Smith Creek, Smith Crossroads, Smith Island, Southport, Spring Hill, St. Helena, Stag Park, Still Bluff, Suburb, Sunset Harbor, Supply, Surf City, Tomahawk, Topsail, Topsail Beach, Topsail Sound, Town Creek, Twin Oak, Vista, Walkers, Wallace, Watha, West Onslow Beach, Westbrook, White Stocking, Wilmington, Wilmington Beach, Windemere, Winnabow, Woodside, Wrightsboro, Wrightsville Beach, and Zara, North Carolina.