We specialize in tankless water heater repair for customers in the Wrightsboro area.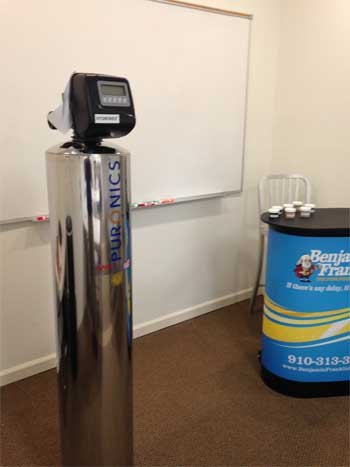 Having a tankless water heater is a great addition to any home. With a tankless option, you don't have to worry about running out of hot water, even if everyone in the household takes a shower all in a row. Tankless water heaters heat water on demand, so they also take up less space since you don't need a big tank sitting anywhere. However, if the water coming through the taps is cold or your water heater isn't performing like it should, give us a call at Benjamin Franklin Plumbing Inc. – Leland and we'll send a technician to perform tankless water heater repair.
We specialize in tankless water heater repair for customers in the Wrightsboro, North Carolina area. Some of the most common issues we see include connections going bad, plumbing clogs, and backups. Signs of a clog in your plumbing include slow-moving drains, the sounds of water rushing or dripping when no faucets are on, or musty odors. You could also notice wet spots on the floors or walls. When the plumbing connections aren't there, the water can't move through the faucets, so the flow could have less pressure or be completely non-existent.
No matter what type of problem you're experiencing, our plumbing technicians are here to simplify the process by offering tankless water heater repair. We understand the need for a steady stream of hot water, so we'll get the problem fixed quickly and efficiently, lessening the amount of time you will have to spend taking cold showers.
---
At Benjamin Franklin Plumbing Inc. – Leland, we offer tankless water heater repair services in Acme, Antioch, Armour, Atkinson, Baltimore, Batarora, Bayshore Bell, Brunswick County, Swamp Bells, Crossroads, Belville, Bishop, Boiling Springs, Buckhead, Burgaw, Byrdville, Carolina Beach, Carvers Castle, Hayne, Caswell Beach, Cedar Hill, Kirkland, Kure Beach, Lake Sutton, Lanvale, Leland, Lennon, Little Kelly, Long Creek, Long View, Maco, Masonboro, Middle River, Mill Creek, Montague, Mooretown, Murphytown, Murraysville, Myrtle Grove, Navassa, Newtons Crossroads, Northwest Oak Island, Penderlea, Phoenix, Piney Wood, Plear, Point Caswell, Prosper, Rabontown, Reb Kee, Rhyne, Ricefield, Riegelwood, Rocky Point, Rowan, Russells Creek, Sandy Creek, Scotts Hill, Sea Breeze, Shaken, Shelter Neck, Silver Lake, Six Forks, Skippers Corner, Sloop Point, Smith Creek, Smith Crossroads, Smith Island, Southport, Spring Hill, St. Helena, Stag Park, Still Bluff, Suburb, Sunset Harbor, Supply, Surf City, Tomahawk, Topsail, Topsail Beach, Topsail Sound, Town Creek, Twin Oak, Vista, Walkers, Wallace, Watha, West Onslow Beach, Westbrook, White Stocking, Wilmington, Wilmington Beach, Windemere, Winnabow, Woodside, Wrightsboro, Wrightsville Beach, and Zara, North Carolina.