Our team offers well pump repair for clients throughout Wrightsboro, so don't hesitate to give us a call.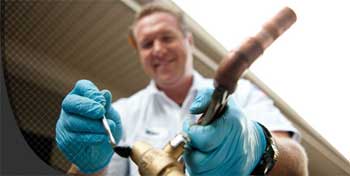 When you have a well on your property, you can take advantage of the many benefits that come with it. You don't have to rely on anyone else to get fresh water for use in your home and on your landscaping, and many people believe that the water from a well tastes better. However, when something goes wrong with your well, you'll need to bring in a well pump repair professional who can handle the task. Many plumbing companies don't have experience with well service, but at Benjamin Franklin Plumbing Inc. – Leland, this is an area in which we excel.
A well pump serves the important purpose of keeping water flowing between the well and the pipes in your home. When the pump isn't working correctly, you may notice signs like weak pressure, no water flow when you turn on your faucet, or strange sounds coming from the faucets when they're in use or turned off. Our team offers well pump repair for clients throughout Wrightsboro, North Carolina, so don't hesitate to give us a call. We'll send someone to your property right away to assess the problem and come up with a plan to repair the well pump and keep things flowing smoothly.
You probably don't realize just how much you rely on constant access to water, at least until your well pump stops working and you don't have it anymore. We're happy to provide well pump repair and other solutions for well problems, ensuring that you don't have to go without this necessity of life.
---
At Benjamin Franklin Plumbing Inc. – Leland, we offer well pump repair services in Acme, Antioch, Armour, Atkinson, Baltimore, Batarora, Bayshore Bell, Brunswick County, Swamp Bells, Crossroads, Belville, Bishop, Boiling Springs, Buckhead, Burgaw, Byrdville, Carolina Beach, Carvers Castle, Hayne, Caswell Beach, Cedar Hill, Kirkland, Kure Beach, Lake Sutton, Lanvale, Leland, Lennon, Little Kelly, Long Creek, Long View, Maco, Masonboro, Middle River, Mill Creek, Montague, Mooretown, Murphytown, Murraysville, Myrtle Grove, Navassa, Newtons Crossroads, Northwest Oak Island, Penderlea, Phoenix, Piney Wood, Plear, Point Caswell, Prosper, Rabontown, Reb Kee, Rhyne, Ricefield, Riegelwood, Rocky Point, Rowan, Russells Creek, Sandy Creek, Scotts Hill, Sea Breeze, Shaken, Shelter Neck, Silver Lake, Six Forks, Skippers Corner, Sloop Point, Smith Creek, Smith Crossroads, Smith Island, Southport, Spring Hill, St. Helena, Stag Park, Still Bluff, Suburb, Sunset Harbor, Supply, Surf City, Tomahawk, Topsail, Topsail Beach, Topsail Sound, Town Creek, Twin Oak, Vista, Walkers, Wallace, Watha, West Onslow Beach, Westbrook, White Stocking, Wilmington, Wilmington Beach, Windemere, Winnabow, Woodside, Wrightsboro, Wrightsville Beach, and Zara, North Carolina.