We don't squander your time when taking care of faucet repair at your Wilmington home.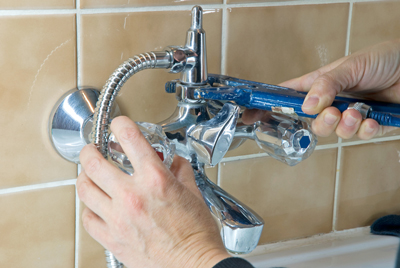 You may not realize just how much you depend on the faucets in your Wilmington, North Carolina home until you suddenly find yourself needing faucet repair. At Benjamin Franklin Plumbing Inc. – Leland, we understand that going without the bathroom faucet, especially during morning routines, is far from convenient. Having water spray you in the face every time you try to do the dishes isn't exactly pleasant, either. That is why we are particularly punctual when it comes to faucet repair calls.
We back up our punctuality promise with a $5-per-minute discount, up to $300, if we are late to arrive for any reason. We aren't just fast when it comes to faucet repair– we're efficient and professional. All our technicians are in uniform, and we only hire plumbers who pass both background and drug tests. All employees are trained and instructed to always give you all the options for your faucet repair, along with upfront, straightforward pricing, before they get started with the faucet repair. This puts you in the driver's seat. You'll be able to decide if faucet repair makes sense or if a replacement faucet is the better option.
You can count on the honesty and integrity of a company named for such a solid citizen of early American history. That goes for faucet repair or any of our other home plumbing services. Need us for an emergency? With 24/7 response, your needs are handled pronto! To quote Benjamin Franklin, "You may delay, but time will not." He didn't believe in squandering time, and we don't either. Contact us today to learn more!
---
At Benjamin Franklin Plumbing Inc. – Leland, we offer faucet repair services in Acme, Antioch, Armour, Atkinson, Baltimore, Batarora, Bayshore Bell, Brunswick County, Swamp Bells, Crossroads, Belville, Bishop, Boiling Springs, Buckhead, Burgaw, Byrdville, Carolina Beach, Carvers Castle, Hayne, Caswell Beach, Cedar Hill, Kirkland, Kure Beach, Lake Sutton, Lanvale, Leland, Lennon, Little Kelly, Long Creek, Long View, Maco, Masonboro, Middle River, Mill Creek, Montague, Mooretown, Murphytown, Murraysville, Myrtle Grove, Navassa, Newtons Crossroads, Northwest Oak Island, Penderlea, Phoenix, Piney Wood, Plear, Point Caswell, Prosper, Rabontown, Reb Kee, Rhyne, Ricefield, Riegelwood, Rocky Point, Rowan, Russells Creek, Sandy Creek, Scotts Hill, Sea Breeze, Shaken, Shelter Neck, Silver Lake, Six Forks, Skippers Corner, Sloop Point, Smith Creek, Smith Crossroads, Smith Island, Southport, Spring Hill, St. Helena, Stag Park, Still Bluff, Suburb, Sunset Harbor, Supply, Surf City, Tomahawk, Topsail, Topsail Beach, Topsail Sound, Town Creek, Twin Oak, Vista, Walkers, Wallace, Watha, West Onslow Beach, Westbrook, White Stocking, Wilmington, Wilmington Beach, Windemere, Winnabow, Woodside, Wrightsboro, Wrightsville Beach, and Zara, North Carolina.
Similar Services We Offer: