When you have a clog or a leak in Wilmington, trust us with your sink repair.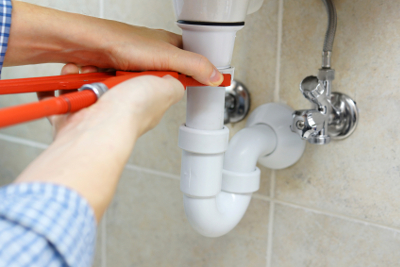 Nothing ruins your day like a plumbing problem. Maybe you are running late for work when you first notice the problem and realize you need sink repair services. It could be a problem with your sink basin – a chip, a crack or a leak. Maybe your drain is suddenly slow, clogged or leaking. Or perhaps you hear the unmistakable sound of your faucet dripping. Don't wait for your little problem to turn into a big problem. Protect your investment in your Wilmington, North Carolina home today and give us a call at Benjamin Franklin Plumbing Inc. – Leland
No matter what room your sink is in or what material your sink is made out of, we have the expertise and the knowledge needed to quickly complete your sink repair and get everything back to normal. When you call us, you can always expect outstanding customer service that will save you time and money. Our uniformed technicians will carefully discuss options for your sink repair with you before any work begins, and we will give you upfront pricing so there are no surprises along the way.
If your sink requires replacement, we will discuss the options with you and help you weigh the benefits and drawbacks of each option. We are able to install a wide variety of sinks, including more traditional options like stainless steel, porcelain, plastic, and ceramic, as well as more unique choices like copper or glass that can add a personal touch to your home.
So if you have a sink repair problem or need total replacement, give us a call right now to safeguard your house from any potential water damage.
---
At Benjamin Franklin Plumbing Inc. – Leland, we offer sink repair services in Acme, Antioch, Armour, Atkinson, Baltimore, Batarora, Bayshore Bell, Brunswick County, Swamp Bells, Crossroads, Belville, Bishop, Boiling Springs, Buckhead, Burgaw, Byrdville, Carolina Beach, Carvers Castle, Hayne, Caswell Beach, Cedar Hill, Kirkland, Kure Beach, Lake Sutton, Lanvale, Leland, Lennon, Little Kelly, Long Creek, Long View, Maco, Masonboro, Middle River, Mill Creek, Montague, Mooretown, Murphytown, Murraysville, Myrtle Grove, Navassa, Newtons Crossroads, Northwest Oak Island, Penderlea, Phoenix, Piney Wood, Plear, Point Caswell, Prosper, Rabontown, Reb Kee, Rhyne, Ricefield, Riegelwood, Rocky Point, Rowan, Russells Creek, Sandy Creek, Scotts Hill, Sea Breeze, Shaken, Shelter Neck, Silver Lake, Six Forks, Skippers Corner, Sloop Point, Smith Creek, Smith Crossroads, Smith Island, Southport, Spring Hill, St. Helena, Stag Park, Still Bluff, Suburb, Sunset Harbor, Supply, Surf City, Tomahawk, Topsail, Topsail Beach, Topsail Sound, Town Creek, Twin Oak, Vista, Walkers, Wallace, Watha, West Onslow Beach, Westbrook, White Stocking, Wilmington, Wilmington Beach, Windemere, Winnabow, Woodside, Wrightsboro, Wrightsville Beach, and Zara, North Carolina.