You can rely on us for all your water heater repair needs in Wilmington.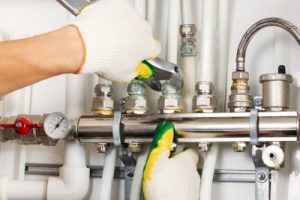 Is your hot water going in and out and you aren't sure what the problem is? Are you taking cold showers and wondering why the water in your sink is only luke-warm? Getting your broken water heater repaired is extremely important. Not only is it inconvenient to live without hot water, but leaving it broken can cause bigger problems down the line. Fortunately, you can rely on us at Benjamin Franklin Plumbing Inc. – Leland for all your water heater repair needs in Wilmington, North Carolina. We can address any problem large or small, so you can get back to your normal routine and enjoy hot water again.
The need for water heater repair could be caused by a number of things, including burned-out elements, rusty pipes, or your water heater reaching the end of its lifetime. At Benjamin Franklin Plumbing Inc. – Leland, we can assess the situation, take steps to complete water heater repair, and then we'll make sure you are 100% satisfied that the job is complete. When we come to your home or business, we like to provide our customers with several options and straightforward pricing, so they always know what to expect from us. You'll feel confident that your water heater repair service was done correctly and there are no hidden surprises when it comes to your budget.
You'll enjoy the Benjamin Franklin Plumbing difference when you choose us for all your plumbing services and repair needs in Wilmington. Water heater repair is just one of the many services we can assist you with, and you'll be glad you called a trusted source for your plumbing needs. Don't leave your water heater in the closet without addressing an issue, and don't stress about calling the right plumber for the job. Just give us a call at Benjamin Franklin Plumbing Inc. – Leland today for more information.
---
At Benjamin Franklin Plumbing Inc. – Leland, we offer water heater repair services in Acme, Antioch, Armour, Atkinson, Baltimore, Batarora, Bayshore Bell, Brunswick County, Swamp Bells, Crossroads, Belville, Bishop, Boiling Springs, Buckhead, Burgaw, Byrdville, Carolina Beach, Carvers Castle, Hayne, Caswell Beach, Cedar Hill, Kirkland, Kure Beach, Lake Sutton, Lanvale, Leland, Lennon, Little Kelly, Long Creek, Long View, Maco, Masonboro, Middle River, Mill Creek, Montague, Mooretown, Murphytown, Murraysville, Myrtle Grove, Navassa, Newtons Crossroads, Northwest Oak Island, Penderlea, Phoenix, Piney Wood, Plear, Point Caswell, Prosper, Rabontown, Reb Kee, Rhyne, Ricefield, Riegelwood, Rocky Point, Rowan, Russells Creek, Sandy Creek, Scotts Hill, Sea Breeze, Shaken, Shelter Neck, Silver Lake, Six Forks, Skippers Corner, Sloop Point, Smith Creek, Smith Crossroads, Smith Island, Southport, Spring Hill, St. Helena, Stag Park, Still Bluff, Suburb, Sunset Harbor, Supply, Surf City, Tomahawk, Topsail, Topsail Beach, Topsail Sound, Town Creek, Twin Oak, Vista, Walkers, Wallace, Watha, West Onslow Beach, Westbrook, White Stocking, Wilmington, Wilmington Beach, Windemere, Winnabow, Woodside, Wrightsboro, Wrightsville Beach, and Zara, North Carolina.
Similar Services We Offer: