When you need a plumber, all you have to do is give us a call to get our experts on the job.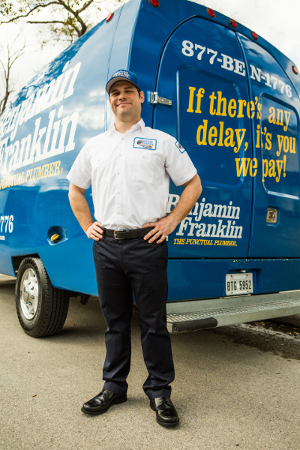 Some plumbing issues are simple enough to fix yourself—for example, you most likely have a plunger on hand to deal with clogged toilets. However, most plumbing problems are more complicated than that, and they should really be addressed by an experienced plumber. When you need a plumber, you can turn to our team at Benjamin Franklin Plumbing Inc. – Leland. We have extensive experience in the industry, and you can count on us to determine the exact cause of the problem and provide the effective, reliable solutions you need.
If you suspect you have a plumbing problem, you should call a plumber as soon as possible to get it checked out—plumbing malfunctions can lead to serious damage if they're not addressed promptly, so it's much better to play it safe in these situations. Our team is happy to inspect your home for possible plumbing issues, and we'll inform you right away if we find anything to be concerned about. We can provide the effective plumbing repair services you need to get your system working properly again, and we can even replace any old fixtures with newer models to give you the improved performance you deserve. To learn more about what we can do for you, simply reach out to our team.
Our team is proud to serve Brunswick County, North Carolina, and we want to help you take the best care of your plumbing. When you need a plumber, don't hesitate to give us a call to get our experts on the job.
---
At Benjamin Franklin Plumbing Inc. – Leland, our plumbers proudly serve Acme, Antioch, Armour, Atkinson, Baltimore, Batarora, Bayshore Bell, Brunswick County, Swamp Bells, Crossroads, Belville, Bishop, Boiling Springs, Buckhead, Burgaw, Byrdville, Carolina Beach, Carvers Castle, Hayne, Caswell Beach, Cedar Hill, Kirkland, Kure Beach, Lake Sutton, Lanvale, Leland, Lennon, Little Kelly, Long Creek, Long View, Maco, Masonboro, Middle River, Mill Creek, Montague, Mooretown, Murphytown, Murraysville, Myrtle Grove, Navassa, Newtons Crossroads, Northwest Oak Island, Penderlea, Phoenix, Piney Wood, Plear, Point Caswell, Prosper, Rabontown, Reb Kee, Rhyne, Ricefield, Riegelwood, Rocky Point, Rowan, Russells Creek, Sandy Creek, Scotts Hill, Sea Breeze, Shaken, Shelter Neck, Silver Lake, Six Forks, Skippers Corner, Sloop Point, Smith Creek, Smith Crossroads, Smith Island, Southport, Spring Hill, St. Helena, Stag Park, Still Bluff, Suburb, Sunset Harbor, Supply, Surf City, Tomahawk, Topsail, Topsail Beach, Topsail Sound, Town Creek, Twin Oak, Vista, Walkers, Wallace, Watha, West Onslow Beach, Westbrook, White Stocking, Wilmington, Wilmington Beach, Windemere, Winnabow, Woodside, Wrightsboro, Wrightsville Beach, and Zara, North Carolina.