When you need new water heaters, turn to our team to get the high-quality options you are looking for.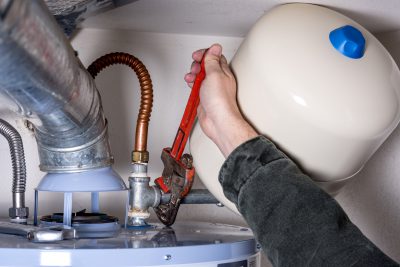 At Benjamin Franklin Plumbing Inc. – Leland, we believe you deserve to always be able to shower in comfort, and we offer the high-quality water heaters you need to make that happen. You use hot water for several essential tasks, including showering, washing dishes, and doing laundry, and our team is here to make sure you always have enough hot water to complete them all. Whether your current water heater is acting up and needs to be repaired or it has reached the end of its lifespan and needs to be replaced altogether, you can count on us to deliver the effective services you need.
Our team has extensive experience in the plumbing industry, and we have repaired, replaced, and otherwise serviced countless water heaters over the years. If your water heater is malfunctioning in any way, you can turn to our team to get the effective solutions you need to get it working properly again. In addition, if you need to replace your existing water heater, our team can help you select the ideal model for your needs, then take care of the installation process for you. We'll make sure your new heater is installed perfectly so you get the excellent results you deserve.
We are proud to serve the community here in Brunswick County, North Carolina, and we want to help you get the steady supply of hot water you need. If you have been having issues with your water heaters, simply give us a call to have our experts take a look.
---
At Benjamin Franklin Plumbing Inc. – Leland, we install water heaters in Acme, Antioch, Armour, Atkinson, Baltimore, Batarora, Bayshore Bell, Brunswick County, Swamp Bells, Crossroads, Belville, Bishop, Boiling Springs, Buckhead, Burgaw, Byrdville, Carolina Beach, Carvers Castle, Hayne, Caswell Beach, Cedar Hill, Kirkland, Kure Beach, Lake Sutton, Lanvale, Leland, Lennon, Little Kelly, Long Creek, Long View, Maco, Masonboro, Middle River, Mill Creek, Montague, Mooretown, Murphytown, Murraysville, Myrtle Grove, Navassa, Newtons Crossroads, Northwest Oak Island, Penderlea, Phoenix, Piney Wood, Plear, Point Caswell, Prosper, Rabontown, Reb Kee, Rhyne, Ricefield, Riegelwood, Rocky Point, Rowan, Russells Creek, Sandy Creek, Scotts Hill, Sea Breeze, Shaken, Shelter Neck, Silver Lake, Six Forks, Skippers Corner, Sloop Point, Smith Creek, Smith Crossroads, Smith Island, Southport, Spring Hill, St. Helena, Stag Park, Still Bluff, Suburb, Sunset Harbor, Supply, Surf City, Tomahawk, Topsail, Topsail Beach, Topsail Sound, Town Creek, Twin Oak, Vista, Walkers, Wallace, Watha, West Onslow Beach, Westbrook, White Stocking, Wilmington, Wilmington Beach, Windemere, Winnabow, Woodside, Wrightsboro, Wrightsville Beach, and Zara, North Carolina.
Similar Services We Offer: