Stop running out of hot water in your Brunswick County home, thanks to a water heater replacement.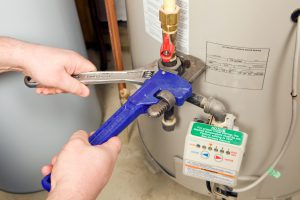 When you need water heater replacement, make sure you act quickly to protect your home and ensure that your family has access to hot water.  If you are looking for water heater replacement services for your home in Brunswick County, North Carolina, give us a call at Benjamin Franklin Plumbing Inc. – Leland.
How do you know that it is time for water heater replacement?
Your hot water is discolored.
Your water is not getting hot at all or is not getting as hot as it once did.
Your hot water has an odor or metallic taste.
You have a leak around your hot water heater.
You hear loud cracks or pops when your water heater is running.
You may not want to wait for your water heater to fail before considering water heater replacement. The typical tank water heater lasts about 12 years, so if your hot water heater is older than 10 years, you may want to consider replacing it. The typical tankless water heater lasts about 20 years.
If you are ready to replace your water heater, it is a good time to consider which type of water heater will better serve your needs. Make sure you discuss the size of your family and your water usage with our technicians, so we can match you with the best water heater for you.  As soon as you give us a call, we will get started on keeping your water warm for years to come.
---
At Benjamin Franklin Plumbing Inc. – Leland, we offer water heater replacement services in Acme, Antioch, Armour, Atkinson, Baltimore, Batarora, Bayshore Bell, Brunswick County, Swamp Bells, Crossroads, Belville, Bishop, Boiling Springs, Buckhead, Burgaw, Byrdville, Carolina Beach, Carvers Castle, Hayne, Caswell Beach, Cedar Hill, Kirkland, Kure Beach, Lake Sutton, Lanvale, Leland, Lennon, Little Kelly, Long Creek, Long View, Maco, Masonboro, Middle River, Mill Creek, Montague, Mooretown, Murphytown, Murraysville, Myrtle Grove, Navassa, Newtons Crossroads, Northwest Oak Island, Penderlea, Phoenix, Piney Wood, Plear, Point Caswell, Prosper, Rabontown, Reb Kee, Rhyne, Ricefield, Riegelwood, Rocky Point, Rowan, Russells Creek, Sandy Creek, Scotts Hill, Sea Breeze, Shaken, Shelter Neck, Silver Lake, Six Forks, Skippers Corner, Sloop Point, Smith Creek, Smith Crossroads, Smith Island, Southport, Spring Hill, St. Helena, Stag Park, Still Bluff, Suburb, Sunset Harbor, Supply, Surf City, Tomahawk, Topsail, Topsail Beach, Topsail Sound, Town Creek, Twin Oak, Vista, Walkers, Wallace, Watha, West Onslow Beach, Westbrook, White Stocking, Wilmington, Wilmington Beach, Windemere, Winnabow, Woodside, Wrightsboro, Wrightsville Beach, and Zara, North Carolina.