We're proud to provide a comprehensive selection of plumbing services to our Leland customers.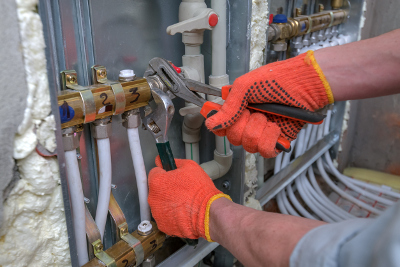 When your garbage disposal stops working and one of your bathroom sinks starts leaking, you shouldn't have to call two different plumbers to get both of these issues taken care of. Streamlining the plumbing repair process is one of the things our team is known for at Benjamin Franklin Plumbing Inc. – Leland, which is why we're proud to provide a comprehensive selection of plumbing services to our Leland, North Carolina customers.
Some of the plumbing services we offer include drain cleaning, leaky faucet repair, pump repair, pump maintenance, water heater repair and maintenance, and many, many others. Whatever has gone wrong with your plumbing system, just let us know, and we'll come up with a plan of action for taking care of the problem reliably, efficiently, and affordably.
Although our straightforward pricing and excellent service are both things that set our plumbing services apart, what we're really known for is our on-time guarantee. For every minute we're late for a service call, we'll pay YOU $5 to make up for the inconvenience. This is the Benjamin Franklin difference, and we're proud to be a part of such a customer-oriented company!
The next time you want to get one of your pipes checked out, your drains fixed, or your water heater repaired, there's only one place to call — Benjamin Franklin Plumbing Inc. – Leland. Get in touch with us today to find out more about our many plumbing services and specials we're currently running.
---
At Benjamin Franklin Plumbing Inc. – Leland, we offer plumbing services in Acme, Antioch, Armour, Atkinson, Baltimore, Batarora, Bayshore Bell, Brunswick County, Swamp Bells, Crossroads, Belville, Bishop, Boiling Springs, Buckhead, Burgaw, Byrdville, Carolina Beach, Carvers Castle, Hayne, Caswell Beach, Cedar Hill, Kirkland, Kure Beach, Lake Sutton, Lanvale, Leland, Lennon, Little Kelly, Long Creek, Long View, Maco, Masonboro, Middle River, Mill Creek, Montague, Mooretown, Murphytown, Murraysville, Myrtle Grove, Navassa, Newtons Crossroads, Northwest Oak Island, Penderlea, Phoenix, Piney Wood, Plear, Point Caswell, Prosper, Rabontown, Reb Kee, Rhyne, Ricefield, Riegelwood, Rocky Point, Rowan, Russells Creek, Sandy Creek, Scotts Hill, Sea Breeze, Shaken, Shelter Neck, Silver Lake, Six Forks, Skippers Corner, Sloop Point, Smith Creek, Smith Crossroads, Smith Island, Southport, Spring Hill, St. Helena, Stag Park, Still Bluff, Suburb, Sunset Harbor, Supply, Surf City, Tomahawk, Topsail, Topsail Beach, Topsail Sound, Town Creek, Twin Oak, Vista, Walkers, Wallace, Watha, West Onslow Beach, Westbrook, White Stocking, Wilmington, Wilmington Beach, Windemere, Winnabow, Woodside, Wrightsboro, Wrightsville Beach, and Zara, North Carolina.
Similar Services We Offer: