Get to the bottom of your plumbing problems in Leland with our video camera inspection services.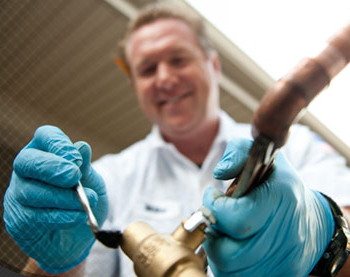 Advancements in technology have changed modern life in many ways, and plumbing is no exception. One of the newest advancements in plumbing is the use of video camera inspections to find and diagnose plumbing problems. Here at Benjamin Franklin Plumbing Inc. – Leland, we are proud to be bringing this technology to the homes and businesses of Leland, North Carolina and the surrounding area.
Video camera inspections are not invasive. We don't have to rip up large sections of your home to find a problem. A video camera inspection is accurate and cost-efficient. We will insert a special waterproof camera into your plumbing using a flexible rod. The rod allows the high-resolution camera to travel through the pipes easily, even around corners. Because of the small size of the camera, this technology can be used in almost any pipes.
Here are just a few of the problems we can help correct more effectively with a video camera inspection:
Find and diagnose the plumbing problem before we start opening your walls
Pinpoint the exact cause and the exact location of the problem
Retrieve lost items and valuables that have gone into the plumbing
Provide comprehensive plumbing inspections before you purchase a new home
Inspect plumbing before starting a remodel to know exactly where pipes are located
Find root intrusions, pipe misalignments, buildup and obstructions before major problems occur.
If you are interested in video camera inspection or have further questions, don't hesitate to call us for more information. We pride ourselves in our commitment to customer satisfaction and we want you to experience the Benjamin Franklin Plumbing Inc. – Leland difference. Call today.
---
At Benjamin Franklin Plumbing Inc. – Leland, we perform video camera inspections in Acme, Antioch, Armour, Atkinson, Baltimore, Batarora, Bayshore Bell, Brunswick County, Swamp Bells, Crossroads, Belville, Bishop, Boiling Springs, Buckhead, Burgaw, Byrdville, Carolina Beach, Carvers Castle, Hayne, Caswell Beach, Cedar Hill, Kirkland, Kure Beach, Lake Sutton, Lanvale, Leland, Lennon, Little Kelly, Long Creek, Long View, Maco, Masonboro, Middle River, Mill Creek, Montague, Mooretown, Murphytown, Murraysville, Myrtle Grove, Navassa, Newtons Crossroads, Northwest Oak Island, Penderlea, Phoenix, Piney Wood, Plear, Point Caswell, Prosper, Rabontown, Reb Kee, Rhyne, Ricefield, Riegelwood, Rocky Point, Rowan, Russells Creek, Sandy Creek, Scotts Hill, Sea Breeze, Shaken, Shelter Neck, Silver Lake, Six Forks, Skippers Corner, Sloop Point, Smith Creek, Smith Crossroads, Smith Island, Southport, Spring Hill, St. Helena, Stag Park, Still Bluff, Suburb, Sunset Harbor, Supply, Surf City, Tomahawk, Topsail, Topsail Beach, Topsail Sound, Town Creek, Twin Oak, Vista, Walkers, Wallace, Watha, West Onslow Beach, Westbrook, White Stocking, Wilmington, Wilmington Beach, Windemere, Winnabow, Woodside, Wrightsboro, Wrightsville Beach, and Zara, North Carolina.