When you need a plumber in Leland, make sure they are licensed to get the best service.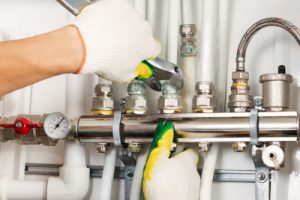 Let's pretend for a minute that you need surgery of some kind, maybe on your knee or shoulder. You would probably take a few steps to ensure that your doctor is going to be the right fit for your needs, have all the proper accreditations, and is experienced enough to do the job well. You would never trust your body to someone who has a flashy ad but lacks a degree, nor would you trust a friend to do the operation, even if they told you they had seen it done a few times on YouTube. While your body is much more valuable and complicated than your home, our team here at Benjamin Franklin Plumbing Inc. – Leland would like to use this analogy to explain to our Leland, North Carolina customers why going with a licensed plumber is in their own best interest.
A licensed plumber is a certification that isn't given to just anyone who calls themselves a plumber. There are many unlicensed plumbers out there who do work improperly that can cause larger problems down the road, which may cost you much more than the original repairs. Even though a licensed plumber might sound expensive, often times our prices are very competitive to other unlicensed plumbers. This ensures that you are getting quality work done by a skilled and competent plumber, rather than someone who may be practicing under the radar.
Licensed plumbers have the know-how and experience to help you with your plumbing needs, whether they are residential or commercial. Additionally, they can prevent problems made by faulty repairs or even illness that can occur through water-borne diseases that occur when repairs are done improperly.
When you are in need of a plumbing repair, don't just pick the biggest ad on Google; make sure you have a licensed plumber who has your best interest at heart.
---
At Benjamin Franklin Plumbing Inc. – Leland, our licensed plumbers proudly serve Acme, Antioch, Armour, Atkinson, Baltimore, Batarora, Bayshore Bell, Brunswick County, Swamp Bells, Crossroads, Belville, Bishop, Boiling Springs, Buckhead, Burgaw, Byrdville, Carolina Beach, Carvers Castle, Hayne, Caswell Beach, Cedar Hill, Kirkland, Kure Beach, Lake Sutton, Lanvale, Leland, Lennon, Little Kelly, Long Creek, Long View, Maco, Masonboro, Middle River, Mill Creek, Montague, Mooretown, Murphytown, Murraysville, Myrtle Grove, Navassa, Newtons Crossroads, Northwest Oak Island, Penderlea, Phoenix, Piney Wood, Plear, Point Caswell, Prosper, Rabontown, Reb Kee, Rhyne, Ricefield, Riegelwood, Rocky Point, Rowan, Russells Creek, Sandy Creek, Scotts Hill, Sea Breeze, Shaken, Shelter Neck, Silver Lake, Six Forks, Skippers Corner, Sloop Point, Smith Creek, Smith Crossroads, Smith Island, Southport, Spring Hill, St. Helena, Stag Park, Still Bluff, Suburb, Sunset Harbor, Supply, Surf City, Tomahawk, Topsail, Topsail Beach, Topsail Sound, Town Creek, Twin Oak, Vista, Walkers, Wallace, Watha, West Onslow Beach, Westbrook, White Stocking, Wilmington, Wilmington Beach, Windemere, Winnabow, Woodside, Wrightsboro, Wrightsville Beach, and Zara, North Carolina.