We can provide expert installation and servicing of well pumps in Leland.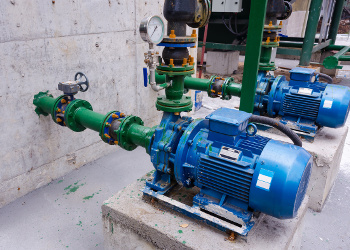 When you get your water from a well instead of through city lines, it's important to know that you can rely on your well pump to provide the water you need when you need it. At Benjamin Franklin Plumbing Inc. – Leland, we can ensure that your well pump is in good condition, provide expert installation and replacement services, and work with you to keep your well operating efficiently year after year.
Install – When your well pump has given out or you are installing a new well on your property, you can rely on us to provide the installation services required to get the most from your well pump and your well. We carry top brands and will work with you to ensure you get the best results.
Replace – Is it time for well pump replacement, and you want to make sure the job is done right? Then all you need to do is contact us at Benjamin Franklin Plumbing Inc. – Leland, and we'll make sure your well pump replacement goes smoothly and the equipment is working its best.
Maintain – Routine maintenance of well pumps and your other plumbing components will ensure that you don't have any surprises when it comes to your water supply. Ask us about our maintenance solutions and how we can help you with all your plumbing needs each year.
You'll see the Benjamin Franklin Plumbing Difference when you choose our team for all your plumbing needs in Leland, North Carolina. From well pumps to water filtration installation and drain cleaning services, there is no job too big or small for us to handle. Contact us today if you have questions about well pumps or if you need to schedule services at your home or business.
---
At Benjamin Franklin Plumbing Inc. – Leland, we install pumps in Acme, Antioch, Armour, Atkinson, Baltimore, Batarora, Bayshore Bell, Brunswick County, Swamp Bells, Crossroads, Belville, Bishop, Boiling Springs, Buckhead, Burgaw, Byrdville, Carolina Beach, Carvers Castle, Hayne, Caswell Beach, Cedar Hill, Kirkland, Kure Beach, Lake Sutton, Lanvale, Leland, Lennon, Little Kelly, Long Creek, Long View, Maco, Masonboro, Middle River, Mill Creek, Montague, Mooretown, Murphytown, Murraysville, Myrtle Grove, Navassa, Newtons Crossroads, Northwest Oak Island, Penderlea, Phoenix, Piney Wood, Plear, Point Caswell, Prosper, Rabontown, Reb Kee, Rhyne, Ricefield, Riegelwood, Rocky Point, Rowan, Russells Creek, Sandy Creek, Scotts Hill, Sea Breeze, Shaken, Shelter Neck, Silver Lake, Six Forks, Skippers Corner, Sloop Point, Smith Creek, Smith Crossroads, Smith Island, Southport, Spring Hill, St. Helena, Stag Park, Still Bluff, Suburb, Sunset Harbor, Supply, Surf City, Tomahawk, Topsail, Topsail Beach, Topsail Sound, Town Creek, Twin Oak, Vista, Walkers, Wallace, Watha, West Onslow Beach, Westbrook, White Stocking, Wilmington, Wilmington Beach, Windemere, Winnabow, Woodside, Wrightsboro, Wrightsville Beach, and Zara, North Carolina.
Similar Services We Offer: