We can make expert recommendations for the water filters that will meet your needs in Leland.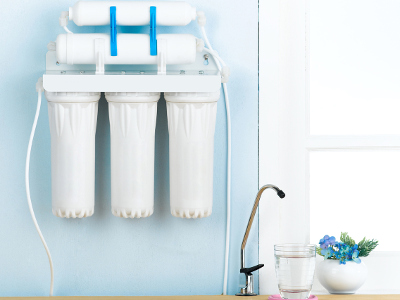 Did you know that having water filters installed on your faucets, or as part of your plumbing system, can help you achieve cleaner, healthier water at your home or business? Whether you have a hard water problem or you are looking for ways to remove unwanted chemicals from your water in Leland, North Carolina, you may find that water filters provide an affordable and convenient solution.
At Benjamin Franklin Plumbing Inc. – Leland, we can assist you when you need to install or replace the water filters at your home or business, so you get the best results. There are many different types of water filters on the market today, some of which work better than others. When you contact us because you are interested in adding one or more water filters, we can make expert recommendations and provide the installation services you need to achieve your goals.
Whether you only want one filter installed on your kitchen faucet or you want to utilize a more comprehensive water filtration system, we can ensure that you have the options and solutions you expect and deserve. Knowing that you have a knowledgeable team to assist you when you have questions about water filters or require installation will give you peace of mind that your plumbing is in top shape.
At Benjamin Franklin Plumbing Inc. – Leland, we are committed to assisting you with all your plumbing needs, both large and small. If you have questions about water filters or would like to have us come to your home or business to complete installation, contact us today to learn more about how we can assist you.
---
At Benjamin Franklin Plumbing Inc. – Leland, we install water filters in Acme, Antioch, Armour, Atkinson, Baltimore, Batarora, Bayshore Bell, Brunswick County, Swamp Bells, Crossroads, Belville, Bishop, Boiling Springs, Buckhead, Burgaw, Byrdville, Carolina Beach, Carvers Castle, Hayne, Caswell Beach, Cedar Hill, Kirkland, Kure Beach, Lake Sutton, Lanvale, Leland, Lennon, Little Kelly, Long Creek, Long View, Maco, Masonboro, Middle River, Mill Creek, Montague, Mooretown, Murphytown, Murraysville, Myrtle Grove, Navassa, Newtons Crossroads, Northwest Oak Island, Penderlea, Phoenix, Piney Wood, Plear, Point Caswell, Prosper, Rabontown, Reb Kee, Rhyne, Ricefield, Riegelwood, Rocky Point, Rowan, Russells Creek, Sandy Creek, Scotts Hill, Sea Breeze, Shaken, Shelter Neck, Silver Lake, Six Forks, Skippers Corner, Sloop Point, Smith Creek, Smith Crossroads, Smith Island, Southport, Spring Hill, St. Helena, Stag Park, Still Bluff, Suburb, Sunset Harbor, Supply, Surf City, Tomahawk, Topsail, Topsail Beach, Topsail Sound, Town Creek, Twin Oak, Vista, Walkers, Wallace, Watha, West Onslow Beach, Westbrook, White Stocking, Wilmington, Wilmington Beach, Windemere, Winnabow, Woodside, Wrightsboro, Wrightsville Beach, and Zara, North Carolina.
Similar Services We Offer: