Our excellent drain cleaning services will keep your drains working properly!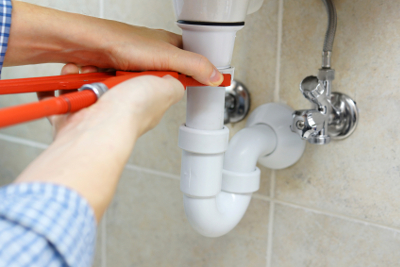 Drain cleaning is very important in keeping a plumbing system working properly. Over time, material can build up in drains, create clogs, and eventually cause serious damage to your drains. While you can be careful about what goes into your drains, chances are some buildup will occur and drain cleaning will be needed. If you need professional assistance with drain cleaning in Southport, North Carolina, make sure you call our excellent team at Benjamin Franklin Plumbing Inc.-Leland.
Regular drain cleaning can clean out current clogs and debris, as well as prevent future blockages from happening. Our team at Benjamin Franklin Plumbing Inc.-Leland has all the necessary materials and training to complete drain cleaning properly. When you work with our team, you can expect quality services that will greatly benefit your drains and plumbing system. Our team always works thoroughly and carefully to ensure your drains are clear and safe from any buildup or blockages.
We have been serving the Southport area since 1999, and our decades of experience have helped us learn how to help our customers to the best of our ability. We are dedicated to providing you with the best drain cleaning services possible, and you can always trust our reliable, friendly team to take care of your drains and the rest of your property.
Don't wait until you are dealing with serious drain problems to invest in drain cleaning — let our team at Benjamin Franklin Plumbing Inc.-Leland assist you with professional drain cleaning to keep your drains in good condition. Give us a call today!
---
At Benjamin Franklin Plumbing Inc. – Leland, we offer drain cleaning services in Acme, Antioch, Armour, Atkinson, Baltimore, Batarora, Bayshore Bell, Brunswick County, Swamp Bells, Crossroads, Belville, Bishop, Boiling Springs, Buckhead, Burgaw, Byrdville, Carolina Beach, Carvers Castle, Hayne, Caswell Beach, Cedar Hill, Kirkland, Kure Beach, Lake Sutton, Lanvale, Leland, Lennon, Little Kelly, Long Creek, Long View, Maco, Masonboro, Middle River, Mill Creek, Montague, Mooretown, Murphytown, Murraysville, Myrtle Grove, Navassa, Newtons Crossroads, Northwest Oak Island, Penderlea, Phoenix, Piney Wood, Plear, Point Caswell, Prosper, Rabontown, Reb Kee, Rhyne, Ricefield, Riegelwood, Rocky Point, Rowan, Russells Creek, Sandy Creek, Scotts Hill, Sea Breeze, Shaken, Shelter Neck, Silver Lake, Six Forks, Skippers Corner, Sloop Point, Smith Creek, Smith Crossroads, Smith Island, Southport, Spring Hill, St. Helena, Stag Park, Still Bluff, Suburb, Sunset Harbor, Supply, Surf City, Tomahawk, Topsail, Topsail Beach, Topsail Sound, Town Creek, Twin Oak, Vista, Walkers, Wallace, Watha, West Onslow Beach, Westbrook, White Stocking, Wilmington, Wilmington Beach, Windemere, Winnabow, Woodside, Wrightsboro, Wrightsville Beach, and Zara, North Carolina.