We can fix and replace water heaters.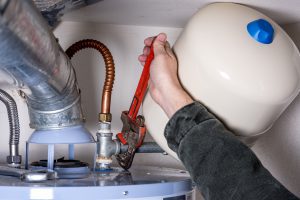 Today, having warm water flowing through your pipes at a moment's notice is a luxury you don't want to live without. There's nothing worse than taking a cold shower in the morning or attempting to wash dishes without much-needed hot water. If your water heater is giving you problems, we're here to help you out at Benjamin Franklin Plumbing Inc. – Leland.
Our plumbing company can repair and replace water heaters. If your water heater has suddenly stopped working, call us right away, and we'll arrive at your home in Southport, North Carolina in no time. We'll then determine if we can fix your water heater or if we should move forward with replacement. Most water heaters last about a decade, so if yours is older and has started to malfunction, you should probably plan on replacing it.
We're honest and reliable when we determine whether a water heater needs to be replaced or if it can be repaired. The great customer service we provide is something we take great pride in, and we will only provide excellent service and recommendations when you have us come and work on your home's water heater.
For water heater repairs and replacements, you can't go wrong choosing our trusted, reliable, and reputable plumbing company. To learn more about the services we offer for water heaters or to schedule a service appointment, get in touch with us today.
---
At Benjamin Franklin Plumbing Inc. – Leland, we install water heaters in Acme, Antioch, Armour, Atkinson, Baltimore, Batarora, Bayshore Bell, Brunswick County, Swamp Bells, Crossroads, Belville, Bishop, Boiling Springs, Buckhead, Burgaw, Byrdville, Carolina Beach, Carvers Castle, Hayne, Caswell Beach, Cedar Hill, Kirkland, Kure Beach, Lake Sutton, Lanvale, Leland, Lennon, Little Kelly, Long Creek, Long View, Maco, Masonboro, Middle River, Mill Creek, Montague, Mooretown, Murphytown, Murraysville, Myrtle Grove, Navassa, Newtons Crossroads, Northwest Oak Island, Penderlea, Phoenix, Piney Wood, Plear, Point Caswell, Prosper, Rabontown, Reb Kee, Rhyne, Ricefield, Riegelwood, Rocky Point, Rowan, Russells Creek, Sandy Creek, Scotts Hill, Sea Breeze, Shaken, Shelter Neck, Silver Lake, Six Forks, Skippers Corner, Sloop Point, Smith Creek, Smith Crossroads, Smith Island, Southport, Spring Hill, St. Helena, Stag Park, Still Bluff, Suburb, Sunset Harbor, Supply, Surf City, Tomahawk, Topsail, Topsail Beach, Topsail Sound, Town Creek, Twin Oak, Vista, Walkers, Wallace, Watha, West Onslow Beach, Westbrook, White Stocking, Wilmington, Wilmington Beach, Windemere, Winnabow, Woodside, Wrightsboro, Wrightsville Beach, and Zara, North Carolina.