We can inspect your plumbing system without tearing up your pipes.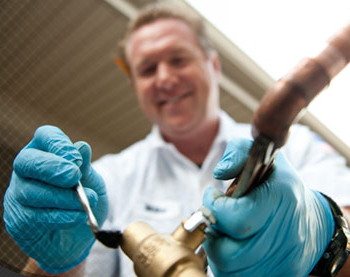 If your plumbing system is leaking, clogged, or experiencing another problem, many plumbing companies will tell you they need to rip up your yard or physically tear up your walls to see what's going on with your pipes. But this isn't the approach we take here at Benjamin Franklin Plumbing Inc. – Leland. This is because we can conduct video camera inspections that allow us to view your plumbing system simply by inserting a video camera down into one of your pipes.
If something has gone wrong with your plumbing system and we need a closer look at your pipes, we will start with a video camera inspection right at the beginning. Conducting this type of inspection allows us to see what's really happening with your piping and then provide effective solutions for fixing the issue.
Once we complete the video camera inspection, we will implement the solutions we suggest to get your home's plumbing back up and working again like it should. Our goal is to exceed your expectations in every way, and this is exactly what you should expect from us when you hire us to come and work on your plumbing system in Wrightsboro, North Carolina.
We would be happy to tell you more about what happens during a video camera inspection and the technology we use to provide this plumbing service. Contact us today to learn more and to speak with a member of our professional plumbing team.
---
At Benjamin Franklin Plumbing Inc. – Leland, we perform video camera inspections in Acme, Antioch, Armour, Atkinson, Baltimore, Batarora, Bayshore Bell, Brunswick County, Swamp Bells, Crossroads, Belville, Bishop, Boiling Springs, Buckhead, Burgaw, Byrdville, Carolina Beach, Carvers Castle, Hayne, Caswell Beach, Cedar Hill, Kirkland, Kure Beach, Lake Sutton, Lanvale, Leland, Lennon, Little Kelly, Long Creek, Long View, Maco, Masonboro, Middle River, Mill Creek, Montague, Mooretown, Murphytown, Murraysville, Myrtle Grove, Navassa, Newtons Crossroads, Northwest Oak Island, Penderlea, Phoenix, Piney Wood, Plear, Point Caswell, Prosper, Rabontown, Reb Kee, Rhyne, Ricefield, Riegelwood, Rocky Point, Rowan, Russells Creek, Sandy Creek, Scotts Hill, Sea Breeze, Shaken, Shelter Neck, Silver Lake, Six Forks, Skippers Corner, Sloop Point, Smith Creek, Smith Crossroads, Smith Island, Southport, Spring Hill, St. Helena, Stag Park, Still Bluff, Suburb, Sunset Harbor, Supply, Surf City, Tomahawk, Topsail, Topsail Beach, Topsail Sound, Town Creek, Twin Oak, Vista, Walkers, Wallace, Watha, West Onslow Beach, Westbrook, White Stocking, Wilmington, Wilmington Beach, Windemere, Winnabow, Woodside, Wrightsboro, Wrightsville Beach, and Zara, North Carolina.