Our plumbers are trained and certified to provide the plumbing services you need in Wrightsboro.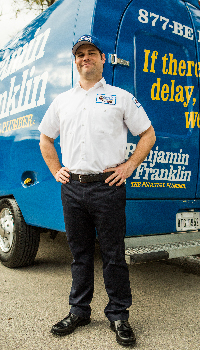 Finding a qualified plumber for your home plumbing needs in Wrightsboro, North Carolina may be easier said than done. Before you step out to ask the neighbor if they "know somebody," why don't you give us a call at Benjamin Franklin Plumbing Inc. – Leland for the quality home plumbing repairs you need. There are several reasons why calling on our team for plumbing services is the best choice.
Our plumbers are trained and certified to provide the plumbing services you need.
We offer an on-time guarantee that says we'll pay YOU if we show up late to an appointment.
We always offer several options during our visit, so you can choose the plumbing solution that meets your needs and your budget.
Our straightforward pricing means you won't be surprised about the bill when our work is done. We'll be upfront and honest with you about the cost of our repairs or installation services.
We have a team of licensed plumbers who can provide the services you need, so you won't be left guessing whether someone will show up.
All of our plumbers are drug tested and background checked, so you know it's safe for them to enter your home.
You should never have to worry about your home's plumbing, but when you do have a concern, you never have to second-guess who you should call when you make us your plumbers of choice in Wrightsboro. Contact us at Benjamin Franklin Plumbing Inc. – Leland today for more information about our plumbing services and to schedule an appointment for a plumber to provide the services you need.
---
At Benjamin Franklin Plumbing Inc. – Leland, our plumbers proudly serve Acme, Antioch, Armour, Atkinson, Baltimore, Batarora, Bayshore Bell, Brunswick County, Swamp Bells, Crossroads, Belville, Bishop, Boiling Springs, Buckhead, Burgaw, Byrdville, Carolina Beach, Carvers Castle, Hayne, Caswell Beach, Cedar Hill, Kirkland, Kure Beach, Lake Sutton, Lanvale, Leland, Lennon, Little Kelly, Long Creek, Long View, Maco, Masonboro, Middle River, Mill Creek, Montague, Mooretown, Murphytown, Murraysville, Myrtle Grove, Navassa, Newtons Crossroads, Northwest Oak Island, Penderlea, Phoenix, Piney Wood, Plear, Point Caswell, Prosper, Rabontown, Reb Kee, Rhyne, Ricefield, Riegelwood, Rocky Point, Rowan, Russells Creek, Sandy Creek, Scotts Hill, Sea Breeze, Shaken, Shelter Neck, Silver Lake, Six Forks, Skippers Corner, Sloop Point, Smith Creek, Smith Crossroads, Smith Island, Southport, Spring Hill, St. Helena, Stag Park, Still Bluff, Suburb, Sunset Harbor, Supply, Surf City, Tomahawk, Topsail, Topsail Beach, Topsail Sound, Town Creek, Twin Oak, Vista, Walkers, Wallace, Watha, West Onslow Beach, Westbrook, White Stocking, Wilmington, Wilmington Beach, Windemere, Winnabow, Woodside, Wrightsboro, Wrightsville Beach, and Zara, North Carolina.