If you have any questions about water filters or need one installed for your Wrightsboro home, please let us know.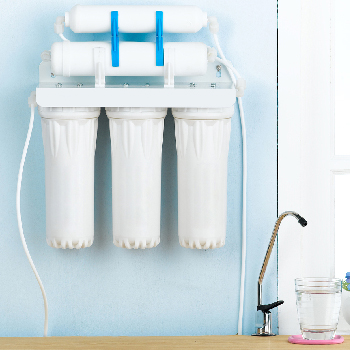 Water used in your home travels through a vast system of pipes to get to you. Considering all the traveling that it does and the age and condition of the pipes that it's traveling through, it's important to consider water filters. There can be serious health risks associated with contaminated water, including overexposure to lead, which is particularly damaging for children. Filtered water is also better for cleaning, especially with your clothes, because there are fewer minerals and metals mixed in it.
Water filters are a great way to ensure that the water you and your family drink is healthy and safe. It is a low-cost, simple installation. Once a water filter has been installed, you can have the peace of mind that you're creating a healthier environment for yourself and your family. You also don't have to make a choice or perform any other action every time you turn on the water to ensure that it is safe and clean.
At Benjamin Franklin Plumbing Inc. – Leland, we highly recommend installing a water filter because the benefits of doing so are incredible. You will not regret having clean water in your home.
If you have any questions about water filters or need one installed for your Wrightsboro, North Carolina home, please let us know. We are experienced plumbers and are dedicated to our customers. We want you to feel full confidence in the services that we provide you with and hope that we'll have the opportunity to improve the water in your home through a simple water filter installation.
---
At Benjamin Franklin Plumbing Inc. – Leland, we install water filters in Acme, Antioch, Armour, Atkinson, Baltimore, Batarora, Bayshore Bell, Brunswick County, Swamp Bells, Crossroads, Belville, Bishop, Boiling Springs, Buckhead, Burgaw, Byrdville, Carolina Beach, Carvers Castle, Hayne, Caswell Beach, Cedar Hill, Kirkland, Kure Beach, Lake Sutton, Lanvale, Leland, Lennon, Little Kelly, Long Creek, Long View, Maco, Masonboro, Middle River, Mill Creek, Montague, Mooretown, Murphytown, Murraysville, Myrtle Grove, Navassa, Newtons Crossroads, Northwest Oak Island, Penderlea, Phoenix, Piney Wood, Plear, Point Caswell, Prosper, Rabontown, Reb Kee, Rhyne, Ricefield, Riegelwood, Rocky Point, Rowan, Russells Creek, Sandy Creek, Scotts Hill, Sea Breeze, Shaken, Shelter Neck, Silver Lake, Six Forks, Skippers Corner, Sloop Point, Smith Creek, Smith Crossroads, Smith Island, Southport, Spring Hill, St. Helena, Stag Park, Still Bluff, Suburb, Sunset Harbor, Supply, Surf City, Tomahawk, Topsail, Topsail Beach, Topsail Sound, Town Creek, Twin Oak, Vista, Walkers, Wallace, Watha, West Onslow Beach, Westbrook, White Stocking, Wilmington, Wilmington Beach, Windemere, Winnabow, Woodside, Wrightsboro, Wrightsville Beach, and Zara, North Carolina.
Similar Services We Offer: