A video camera inspection can identify all kinds of problems with your Wilmington home's pipes.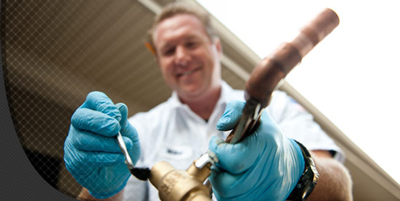 Today, video cameras are one of the most valuable tools in the plumbing business. Thanks to them, what's going on with the pipes in your Wilmington, North Carolina home is no longer a mystery, and they enable our team at Benjamin Franklin Plumbing Inc. – Leland to catch minor problems before they turn into major issues.
A video camera inspection can identify all kinds of problems with your pipes. For example, if one of your pipes is broken, punctured, corroded, misaligned, or if a root has intruded it, a video camera can identify the issue. Using a video camera, we can also identify leaks, obstructions, and grease buildup that can be harmful to your pipes. After any service is performed, we can perform a video inspection to ensure the line has been cleaned or repaired in the proper manner.
We highly recommend having a video camera inspection performed if you experience repeated drain line backups, clogs, or slow drains. It's also a good idea to have one of these inspections done before you purchase a home to ensure your sewer line doesn't have major problems that could result in expensive repairs after you've moved in.
If you want to know more about video camera inspections and their many benefits, get in touch with us at Benjamin Franklin Plumbing Inc. – Leland today. As the area's premier plumbing provider, we look forward to hearing from you and to helping you keep your home's plumbing system in great shape!
---
At Benjamin Franklin Plumbing Inc. – Leland, we perform video camera inspections in Acme, Antioch, Armour, Atkinson, Baltimore, Batarora, Bayshore Bell, Brunswick County, Swamp Bells, Crossroads, Belville, Bishop, Boiling Springs, Buckhead, Burgaw, Byrdville, Carolina Beach, Carvers Castle, Hayne, Caswell Beach, Cedar Hill, Kirkland, Kure Beach, Lake Sutton, Lanvale, Leland, Lennon, Little Kelly, Long Creek, Long View, Maco, Masonboro, Middle River, Mill Creek, Montague, Mooretown, Murphytown, Murraysville, Myrtle Grove, Navassa, Newtons Crossroads, Northwest Oak Island, Penderlea, Phoenix, Piney Wood, Plear, Point Caswell, Prosper, Rabontown, Reb Kee, Rhyne, Ricefield, Riegelwood, Rocky Point, Rowan, Russells Creek, Sandy Creek, Scotts Hill, Sea Breeze, Shaken, Shelter Neck, Silver Lake, Six Forks, Skippers Corner, Sloop Point, Smith Creek, Smith Crossroads, Smith Island, Southport, Spring Hill, St. Helena, Stag Park, Still Bluff, Suburb, Sunset Harbor, Supply, Surf City, Tomahawk, Topsail, Topsail Beach, Topsail Sound, Town Creek, Twin Oak, Vista, Walkers, Wallace, Watha, West Onslow Beach, Westbrook, White Stocking, Wilmington, Wilmington Beach, Windemere, Winnabow, Woodside, Wrightsboro, Wrightsville Beach, and Zara, North Carolina.