We can help you circumvent the effects of GenX contamination.
GenX is an industrial compound associated with adverse ecological and human health effects. It has been found in the drinking water system in communities near Wilmington, North Carolina, and the emergence of this contaminant has resulted in concern over the cleanliness of drinking water in our local area.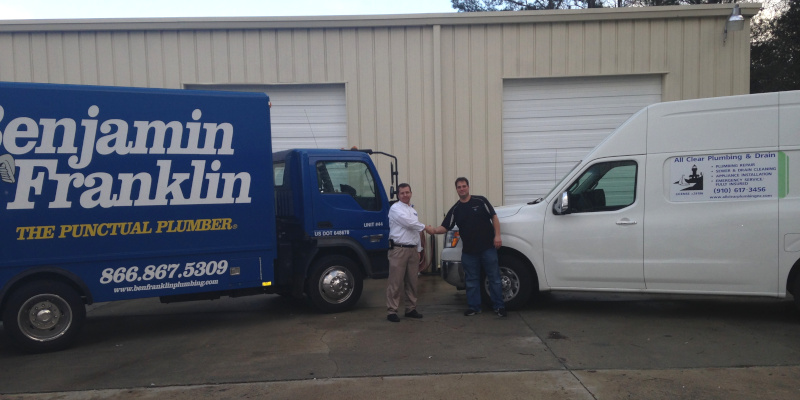 You can be exposed to GenX contamination in a few different ways, but exposure through drinking water is the most common form of exposure. Although the exact effect of GenX contamination on humans is still relatively unknown, some testing reveals that exposure can lead to increased risk of cancer, increased risk of pregnancy complications, and thyroid problems.
If you have concerns about exposure to GenX contamination, we are here to help at Benjamin Franklin Plumbing Inc. – Leland. We are a professional plumbing company in the Wilmington area that only wants what's best for you and your family.
We can analyze the cleanliness of your drinking water and then suggest solutions that can ensure only clean, clear water comes out of your tap. For example, one of the easiest and most effective ways to remove the threat of GenX contamination is with the installation of a water filtration system.
We know you likely have many questions about GenX contamination and its potential effects on your health and the health of your family. For more information about how we can ensure the cleanliness of the water coming out of your pipes, contact us today.
---
At Benjamin Franklin Plumbing Inc. – Leland, we offer GenX contamination solutions in Acme, Antioch, Armour, Atkinson, Baltimore, Batarora, Bayshore Bell, Brunswick County, Swamp Bells, Crossroads, Belville, Bishop, Boiling Springs, Buckhead, Burgaw, Byrdville, Carolina Beach, Carvers Castle, Hayne, Caswell Beach, Cedar Hill, Kirkland, Kure Beach, Lake Sutton, Lanvale, Leland, Lennon, Little Kelly, Long Creek, Long View, Maco, Masonboro, Middle River, Mill Creek, Montague, Mooretown, Murphytown, Murraysville, Myrtle Grove, Navassa, Newtons Crossroads, Northwest Oak Island, Penderlea, Phoenix, Piney Wood, Plear, Point Caswell, Prosper, Rabontown, Reb Kee, Rhyne, Ricefield, Riegelwood, Rocky Point, Rowan, Russells Creek, Sandy Creek, Scotts Hill, Sea Breeze, Shaken, Shelter Neck, Silver Lake, Six Forks, Skippers Corner, Sloop Point, Smith Creek, Smith Crossroads, Smith Island, Southport, Spring Hill, St. Helena, Stag Park, Still Bluff, Suburb, Sunset Harbor, Supply, Surf City, Tomahawk, Topsail, Topsail Beach, Topsail Sound, Town Creek, Twin Oak, Vista, Walkers, Wallace, Watha, West Onslow Beach, Westbrook, White Stocking, Wilmington, Wilmington Beach, Windemere, Winnabow, Woodside, Wrightsboro, Wrightsville Beach, and Zara, North Carolina.