Hiring a licensed plumber for issues at your Wilmington home is always in your best interest.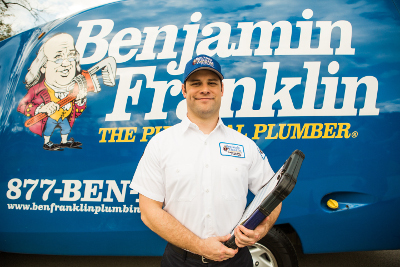 When you need a plumbing issue taken care of in a hurry, you may not realize the importance of calling a licensed plumber over either attempting the repair yourself or reaching out to a handyman-type service. While some emergency repairs are pretty basic, there are plenty that take experience and the right tools to do properly. Even a simple repair can end up being a costly one if not done correctly. At Benjamin Franklin Plumbing Inc. – Leland, we always send a licensed plumber who has the expertise and background to handle your specific problem efficiently and professionally.
One of the reasons why it is best to use a licensed plumber is for insurance reasons. If something should happen during a repair, only a licensed plumber will have the proper insurance in place to cover the problem. If you use an uninsured person and they get hurt, you could be on the hook for thousands of dollars, not to mention the time and effort involved, should it result in a lawsuit. When you consider that the risk is higher with an inexperienced person, this just doesn't make sense. With our affordable, upfront pricing and all you gain by having a licensed plumber on the job, we are clearly the best option for all your plumbing repair needs.
What it comes down to is knowledge, and as our founding father, Benjamin Franklin, said, "An investment in knowledge pays the best interest." Let the knowledge and experience of a licensed plumber be your "best interest." Call us today for all your plumbing needs throughout the Wilmington, North Carolina area.
---
Licensed Plumber in Leland, NC
Licensed Plumber in Wrightsboro, NC