The next time you need a licensed plumber in Wilmington, give us a call.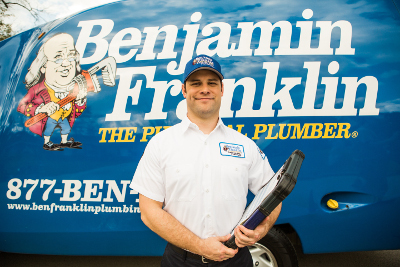 When you need a plumbing issue taken care of in a hurry, you may not realize the importance of calling a licensed plumber instead of either attempting the repair yourself or reaching out to a handyman-type service. While some emergency repairs are pretty basic, there are plenty that take experience and the right tools to do properly. Even a simple repair can end up being a costly one if not done correctly. At Benjamin Franklin Plumbing Inc. – Leland, we always send a licensed plumber who has the expertise and background to handle your specific problem efficiently and professionally.
We're the Best Option for Your Plumbing Needs
One of the reasons why it is best to use a licensed plumber is for insurance reasons. If something should happen during a repair, only a licensed plumber will have the proper insurance in place to cover the problem. If you use an uninsured person and they get hurt, you could be liable for thousands of dollars, not to mention the time and effort involved, should it result in a lawsuit. When you consider that the risk is higher with an inexperienced person, this just doesn't make sense. With our affordable, upfront pricing and all you gain by having a licensed plumber on the job, we are clearly the best option for all your plumbing repair needs in Wilmington.
When to Call a Licensed Plumber
With so much information about plumbing out there online, you might think you can handle the majority of your home's plumbing problems on your own. The truth is that while tightening a leaky pipe and taking a plunger to a clogged toilet are all things most homeowners can handle, it's recommended that you contact a licensed plumber in Wilmington, North Carolina area in the following situations:
Low water pressure—If you're experiencing low water pressure in your home, it's best to call a licensed plumber from our team right away. This common problem could be happening for a number of reasons, like a plumbing leak, a faucet being blocked off, or a shut-off valve being closed.
Water damage—No homeowner wants to hear that they have a serious plumbing leak, especially if the leak has gone on for a while. If you notice wet patches on your ceiling or walls, you can hear water rushing through your home, or your water bills are much higher than normal, it's best to call a licensed plumber right away.
Clogged drains—Most clogs don't go away on their own; instead, they just keep getting bigger and bigger until they obstruct water flow completely. Give us a call if you're dealing with clogged drains and you want to clear out your pipes as soon as possible.
The best guideline we can give you is that if you think you might need a plumber, you probably do. Luckily, we're always ready and waiting to help take care of your plumbing issue efficiently, effectively, and with great customer service.
Give Us a Call Today
What it comes down to is knowledge, and as our founding father, Benjamin Franklin, said, "An investment in knowledge pays the best interest." Let the knowledge and experience of a licensed plumber be your "best interest." Call us today for all your plumbing needs throughout the Wilmington area.
---
At Benjamin Franklin Plumbing Inc. – Leland, our licensed plumbers proudly serve Acme, Antioch, Armour, Atkinson, Baltimore, Batarora, Bayshore Bell, Brunswick County, Swamp Bells, Crossroads, Belville, Bishop, Boiling Springs, Buckhead, Burgaw, Byrdville, Carolina Beach, Carvers Castle, Hayne, Caswell Beach, Cedar Hill, Kirkland, Kure Beach, Lake Sutton, Lanvale, Leland, Lennon, Little Kelly, Long Creek, Long View, Maco, Masonboro, Middle River, Mill Creek, Montague, Mooretown, Murphytown, Murraysville, Myrtle Grove, Navassa, Newtons Crossroads, Northwest Oak Island, Penderlea, Phoenix, Piney Wood, Plear, Point Caswell, Prosper, Rabontown, Reb Kee, Rhyne, Ricefield, Riegelwood, Rocky Point, Rowan, Russells Creek, Sandy Creek, Scotts Hill, Sea Breeze, Shaken, Shelter Neck, Silver Lake, Six Forks, Skippers Corner, Sloop Point, Smith Creek, Smith Crossroads, Smith Island, Southport, Spring Hill, St. Helena, Stag Park, Still Bluff, Suburb, Sunset Harbor, Supply, Surf City, Tomahawk, Topsail, Topsail Beach, Topsail Sound, Town Creek, Twin Oak, Vista, Walkers, Wallace, Watha, West Onslow Beach, Westbrook, White Stocking, Wilmington, Wilmington Beach, Windemere, Winnabow, Woodside, Wrightsboro, Wrightsville Beach, and Zara, North Carolina.