Other local plumbers in the Wilmington area cannot compete with our solid reputation and service.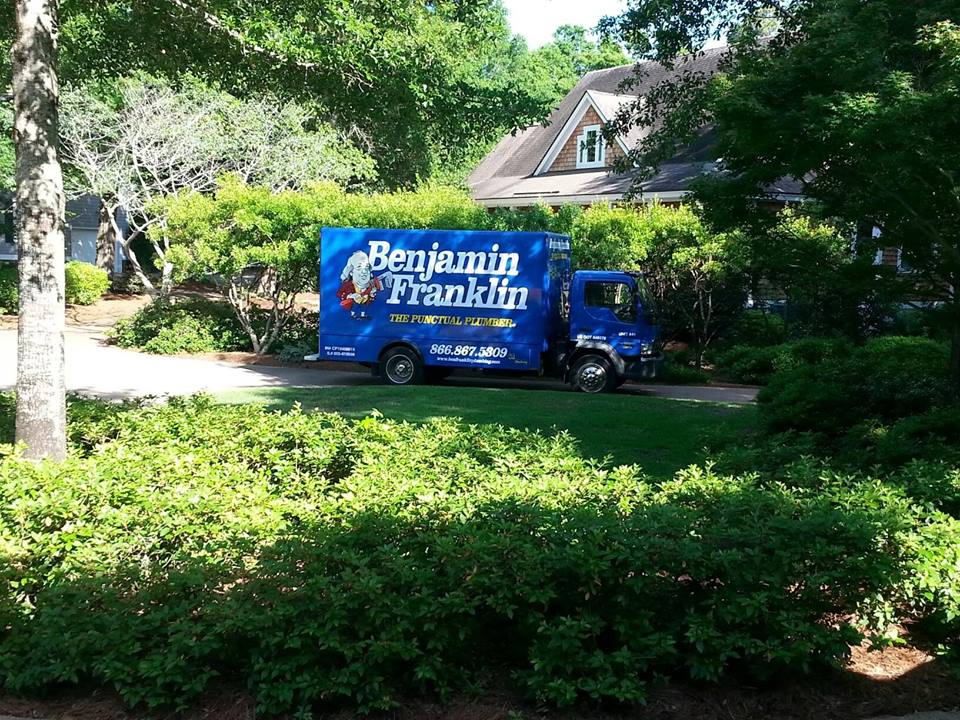 Have you ever wondered how to tell local plumbers apart from one another? When we decided to start Benjamin Franklin Plumbing Inc. – Leland back in 1999, we took a good look at the local plumbers that Wilmington, North Carolina homeowners had to choose from and realized there were a number of ways in which we could do things better.
First, we looked to the sound character of one of America's founding fathers, Benjamin Franklin, and made him a bit of a role model that we could use for structuring all we do. We considered his propensity for not squandering time and his philosophies about life and the virtues to live by. They all made sense as the perfect platform for any business, and as such, one that local plumbers should be following, as well.
As for not squandering time, we hold ourselves as the "Punctual Plumber," and we back that up with a discount of $5 for each minute we are late, up to $300. This shows you that we respect you and your time. Sincerity was one of the important virtues that Mr. Franklin held in esteem, and we follow it by providing upfront, straightforward pricing and communicating all potential options, so you can make an educated decision about how to proceed. Sometimes that means going with a repair, and other times replacement of a plumbing fixture makes more sense. Our uniformed technicians also follow the virtue of cleanliness by never leaving behind a mess for you to clean up.
Over the years, these basic tenets that we valued with Mr. Franklin are what have helped us create the Benjamin Franklin Plumbing standard that we apply to every single residential and commercial plumbing service we provide today. From the moment you call us for a plumbing repair until we call the job done and leave your property, you will know that you have received the best possible service. It is the Benjamin Franklin Plumbing difference that keeps our customers coming back to us for all their plumbing needs.
There is one more thing that sets us apart at Benjamin Franklin Plumbing Inc. – Leland compared to other local plumbers in the Wilmington area. We offer comprehensive plumbing services around the clock. We believe that you should be able to find a plumbing contractor that provides all the services you need in one place rather than having to call around town for different things. If you've ever had to call on more than one plumbing professional to get a job done, you can rest easy knowing that our team has the solutions you need the moment you pick up the phone. From drain cleaning to toilet repair and commercial plumbing replacement – At Benjamin Franklin Plumbing Inc.  – Leland, we've got you covered.
Other local plumbers may do a great job at taking care of your plumbing issue, but we're the ones that follow a strict code. Give us a call and see how much of a difference that makes! We look forward to becoming your plumbing contractors of choice!
---
At Benjamin Franklin Plumbing Inc. – Leland, our local plumbers proudly serve Acme, Antioch, Armour, Atkinson, Baltimore, Batarora, Bayshore Bell, Brunswick County, Swamp Bells, Crossroads, Belville, Bishop, Boiling Springs, Buckhead, Burgaw, Byrdville, Carolina Beach, Carvers Castle, Hayne, Caswell Beach, Cedar Hill, Kirkland, Kure Beach, Lake Sutton, Lanvale, Leland, Lennon, Little Kelly, Long Creek, Long View, Maco, Masonboro, Middle River, Mill Creek, Montague, Mooretown, Murphytown, Murraysville, Myrtle Grove, Navassa, Newtons Crossroads, Northwest Oak Island, Penderlea, Phoenix, Piney Wood, Plear, Point Caswell, Prosper, Rabontown, Reb Kee, Rhyne, Ricefield, Riegelwood, Rocky Point, Rowan, Russells Creek, Sandy Creek, Scotts Hill, Sea Breeze, Shaken, Shelter Neck, Silver Lake, Six Forks, Skippers Corner, Sloop Point, Smith Creek, Smith Crossroads, Smith Island, Southport, Spring Hill, St. Helena, Stag Park, Still Bluff, Suburb, Sunset Harbor, Supply, Surf City, Tomahawk, Topsail, Topsail Beach, Topsail Sound, Town Creek, Twin Oak, Vista, Walkers, Wallace, Watha, West Onslow Beach, Westbrook, White Stocking, Wilmington, Wilmington Beach, Windemere, Winnabow, Woodside, Wrightsboro, Wrightsville Beach, and Zara, North Carolina.