For a plumber who is head and shoulders above the rest, call us to take care of your Wilmington home.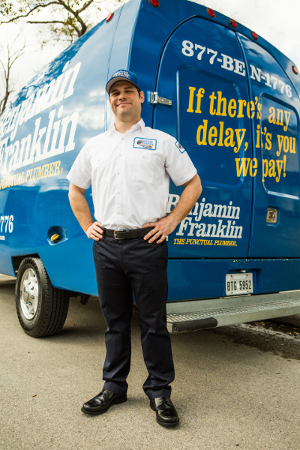 Plumber in Wilmington – Choosing a plumber in the Wilmington, North Carolina area may at first seem complicated, but when you look at all that our team at Benjamin Franklin Plumbing Inc. – Leland has to offer, we think your decision will be an easy one.
We are the "Punctual Plumber" who has become a popular favorite since we were founded in 1999. Here are some of our best features:
Respect – We respect you, and that means respecting your time. We will be at your home when we say we will, and we back that up with a discount of $5 for each minute we are late, up to $300.
Integrity – Our company is named in honor of Benjamin Franklin, one of the founding fathers of our great nation, and we work every day to be worthy of the name.
Professionalism – Our technicians all wear professional uniforms and are both drug-free and background checked, so you can feel confident allowing them into your home. They will always give you several options and upfront, straightforward pricing before they begin the work. We only hire the best with years of experience.
Emergency Service – We offer 24/7 services because we know that plumbing issues generally follow Murphy's Law and happen when least convenient.
On top of these assets, we are also locally owned and veteran operated, an aspect that means our standing in the community is important to us, and we'd never jeopardize it by providing shoddy or unprofessional plumber services. Give us a call today for all your plumbing needs, and see for yourself how we are head and shoulders above other plumbers in the area.
---
At Benjamin Franklin Plumbing Inc. – Leland, our plumbers proudly serve Acme, Antioch, Armour, Atkinson, Baltimore, Batarora, Bayshore Bell, Brunswick County, Swamp Bells, Crossroads, Belville, Bishop, Boiling Springs, Buckhead, Burgaw, Byrdville, Carolina Beach, Carvers Castle, Hayne, Caswell Beach, Cedar Hill, Kirkland, Kure Beach, Lake Sutton, Lanvale, Leland, Lennon, Little Kelly, Long Creek, Long View, Maco, Masonboro, Middle River, Mill Creek, Montague, Mooretown, Murphytown, Murraysville, Myrtle Grove, Navassa, Newtons Crossroads, Northwest Oak Island, Penderlea, Phoenix, Piney Wood, Plear, Point Caswell, Prosper, Rabontown, Reb Kee, Rhyne, Ricefield, Riegelwood, Rocky Point, Rowan, Russells Creek, Sandy Creek, Scotts Hill, Sea Breeze, Shaken, Shelter Neck, Silver Lake, Six Forks, Skippers Corner, Sloop Point, Smith Creek, Smith Crossroads, Smith Island, Southport, Spring Hill, St. Helena, Stag Park, Still Bluff, Suburb, Sunset Harbor, Supply, Surf City, Tomahawk, Topsail, Topsail Beach, Topsail Sound, Town Creek, Twin Oak, Vista, Walkers, Wallace, Watha, West Onslow Beach, Westbrook, White Stocking, Wilmington, Wilmington Beach, Windemere, Winnabow, Woodside, Wrightsboro, Wrightsville Beach, and Zara, North Carolina.