Keep your Wilmington family healthy and happy with our water filters.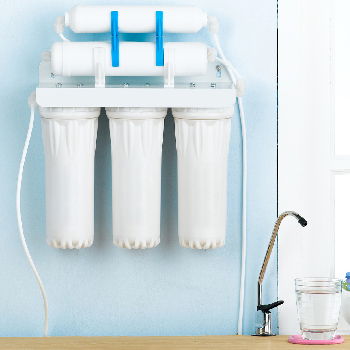 Using a water filter in your Wilmington, North Carolina home or business is about more than making your water taste better. It is really about removing any contaminants or chemicals from your water that could harm your family. A great first step is to test your water to determine what is in it.
At Benjamin Franklin Plumbing Inc. – Leland, we are dedicated to helping you make your home a safer and better place for your family. Our team of professionals can discuss a wide range of water filters with you and help you determine what water filter is right for your needs. The great news is that there are many different options when it comes to water filters, and most are easy to install and maintain.
If you are mostly concerned with the water you use for cooking or drinking, a faucet-mounted water filter might be okay, but be aware that this type of filter can slow your water flow and will not fit on all faucets. If you are going to be filtering more water, under sink or countertop water filters can provide higher volume, but both take up valuable space in your kitchen. Another popular option is the reverse osmosis water filter, but these also slow water flow, take up space and create wastewater.
To best protect your family throughout your home, we recommend the addition of a whole house water filter. This filter will remove contaminants and chemicals from all the water you use in your home, including water used for bathing and laundry. We can also evaluate the age of your home and the potential for there to be lead in the plumbing. Don't worry about your water for one more day– give us a call, and we will find the water filter that is right for your home or business.
---
At Benjamin Franklin Plumbing Inc. – Leland, we install water filters in Acme, Antioch, Armour, Atkinson, Baltimore, Batarora, Bayshore Bell, Brunswick County, Swamp Bells, Crossroads, Belville, Bishop, Boiling Springs, Buckhead, Burgaw, Byrdville, Carolina Beach, Carvers Castle, Hayne, Caswell Beach, Cedar Hill, Kirkland, Kure Beach, Lake Sutton, Lanvale, Leland, Lennon, Little Kelly, Long Creek, Long View, Maco, Masonboro, Middle River, Mill Creek, Montague, Mooretown, Murphytown, Murraysville, Myrtle Grove, Navassa, Newtons Crossroads, Northwest Oak Island, Penderlea, Phoenix, Piney Wood, Plear, Point Caswell, Prosper, Rabontown, Reb Kee, Rhyne, Ricefield, Riegelwood, Rocky Point, Rowan, Russells Creek, Sandy Creek, Scotts Hill, Sea Breeze, Shaken, Shelter Neck, Silver Lake, Six Forks, Skippers Corner, Sloop Point, Smith Creek, Smith Crossroads, Smith Island, Southport, Spring Hill, St. Helena, Stag Park, Still Bluff, Suburb, Sunset Harbor, Supply, Surf City, Tomahawk, Topsail, Topsail Beach, Topsail Sound, Town Creek, Twin Oak, Vista, Walkers, Wallace, Watha, West Onslow Beach, Westbrook, White Stocking, Wilmington, Wilmington Beach, Windemere, Winnabow, Woodside, Wrightsboro, Wrightsville Beach, and Zara, North Carolina.
Similar Services We Offer: