Save money and live better with a new water heater installation in your Wilmington home.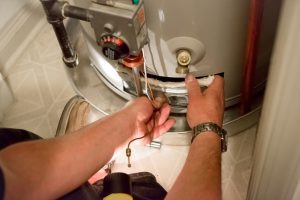 Water heater installation is a job best left to the professionals because it has so much potential to damage your home if something goes wrong. Before the installation process even begins, it is a good idea to consult with a professional about what kind of water heater is right for your home and your family.
If you are looking for water heater installation services for your home in Wilmington, North Carolina, give us a call at Benjamin Franklin Plumbing Inc. – Leland. We have the technical expertise to help you through the entire process, starting with selecting the best water heater for you. The first major decision we will make together is whether to install a tank water heater or one that is tankless. Both types have advantages and disadvantages.
Things to know about tank water heaters:
They are usually cheaper and easier to install.
Over time, the efficiency of these water heaters has improved.
They are good for high demand situations.
They take up space inside your home.
They typically last about 12 years after installation.
Things to know about tankless water heaters:
They are more expensive to install.
They save you money over time by using less energy.
They take us less space in your home and can even be installed outside.
They cannot keep up as well with high demand.
They typically last about 20 years after installation.
If you are ready for your water heater installation or if you want to know more about the options available to you, give us a call today, and we will get started right away.
---
At Benjamin Franklin Plumbing Inc. – Leland, we offer water heater installation services in Acme, Antioch, Armour, Atkinson, Baltimore, Batarora, Bayshore Bell, Brunswick County, Swamp Bells, Crossroads, Belville, Bishop, Boiling Springs, Buckhead, Burgaw, Byrdville, Carolina Beach, Carvers Castle, Hayne, Caswell Beach, Cedar Hill, Kirkland, Kure Beach, Lake Sutton, Lanvale, Leland, Lennon, Little Kelly, Long Creek, Long View, Maco, Masonboro, Middle River, Mill Creek, Montague, Mooretown, Murphytown, Murraysville, Myrtle Grove, Navassa, Newtons Crossroads, Northwest Oak Island, Penderlea, Phoenix, Piney Wood, Plear, Point Caswell, Prosper, Rabontown, Reb Kee, Rhyne, Ricefield, Riegelwood, Rocky Point, Rowan, Russells Creek, Sandy Creek, Scotts Hill, Sea Breeze, Shaken, Shelter Neck, Silver Lake, Six Forks, Skippers Corner, Sloop Point, Smith Creek, Smith Crossroads, Smith Island, Southport, Spring Hill, St. Helena, Stag Park, Still Bluff, Suburb, Sunset Harbor, Supply, Surf City, Tomahawk, Topsail, Topsail Beach, Topsail Sound, Town Creek, Twin Oak, Vista, Walkers, Wallace, Watha, West Onslow Beach, Westbrook, White Stocking, Wilmington, Wilmington Beach, Windemere, Winnabow, Woodside, Wrightsboro, Wrightsville Beach, and Zara, North Carolina.